Lithuanian-Russian Pianist, Lukas Geniušas, will perform selections by Schumann, Chopin, Bartók, and Prokofiev.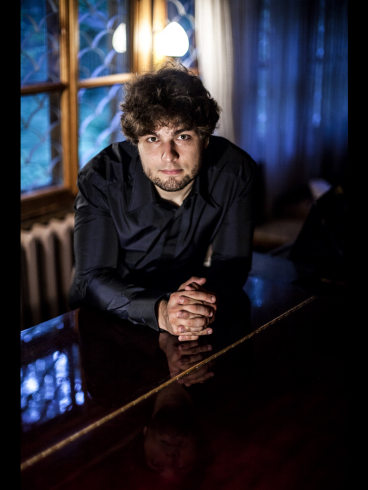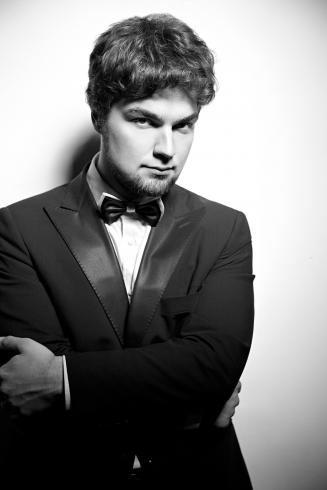 Program
Lukas Geniušas, born in 1990, won the silver medal in the 2015 International Tchaikovsky Competition, having already embarked on a solo career as a pianist. His programs often include works that deserve to be heard more often, and this concert is no exception. Schumann's ebullient Faschingsschwank aus Wien is followed by a group of Chopin mazurkas, which are among the most perfect reinventions of a traditional dance form. Bartok's Burlesques and Prokofiev's Piano Sonata No. 2 both count among the most boldly inventive of their early works.
PROGRAM:
ROBERT SCHUMANN (1810-1856)
Faschingsschwank aus Wien, Op. 26 (1839)
     Allegro
     Romanze
     Scherzino
     Intermezzo
     Finale
FRÉDÉRIC CHOPIN (1810-1849)
Seven Mazurkas:
     Op. 63 No. 2 in F minor
     Op. 7 No. 3 in F minor
     Op. 17 No. 1 in B-flat Major
     Op. 30 No. 4 in C-sharp minor
     Op. 6 No. 3 in E Major
     Op. 68 No. 2 in A minor, op.posth
     Op. 63 No. 3 in C-sharp minor, op.posth
Intermission
BÉLA BARTÓK (1881-1945)
Burlesques, Op. 8 (1908-1911)
     Quarrel
     Slightly Tipsy
     Capriccioso
SERGEI PROKOFIEV (1891-1953)                                                                                          
Sonata No. 2 in D minor, Op. 14 (1912)
     Allegro ma non troppo
     Scherzo. Allegro marcato
     Andante
     Vivace
About the Artist
Born in Moscow in 1990, Lukas Geniušas started piano studies at the age of five in the preparatory department of the Chopin Music College in Moscow and went on to graduate with top honors in 2008. He was born into a family of musicians, a fact which played a major role in Lukas's musical education, particularly through the mentorship of his grandmother, Vera Gornostaeva, a prominent teacher and professor at the Moscow Conservatory. This early development helped Lukas to win the Gina Bachauer Piano Competition in Utah and the silver medal at the Chopin International Piano Competition in 2010. Two years later he received the German Piano Award in Frankfurt am Main. His recent victory, and one of the most important, is the silver medal at the XV Tchaikovsky Competition in Moscow in 2015.
Geniušas has already appeared with numerous orchestras, including the Hamburg Symphony, Duisburg Symphony, BBC Scottish Symphony, St. Petersburg Philharmonic, Kremerata Baltica, Katowice Radio Symphony Orchestra, Warsaw Philharmonic, and the Trondheim Symphony under the batons of conductors such as Valery Gergiev, Yuri Temirkanov, Andrey Boreyko, Saulius Sondeckis, Dmitry Sitkovetsky, Antoni Wit, Rafael Payare, Roman Kofman, and Dmitry Liss to name a few.
His international career has taken Lukas to prestigious venues and festivals throughout the world, including the Rheingau, Ruhr and Lockenhaus Music Festivals, the Auditorium du Louvre, and Wigmore Hall, as well as prominent engagements in Russia and South America.
Highlights of Geniušas's past and future appearances include performances with Mikhail Pletnev and the Russian National Orchestra at the "Chopin and his Europe" International Festival in Warsaw, with the St. Petersburg Philharmonic and the NHK Symphony Orchestra with Tugan Sokhiev at Tokyo's Suntory Hall, as well as debuts with the Odense Symphony Orchestra and Alexander Vedenikov, Moscow State Academic Symphony Orchestra, City of Birmingham Symphony Orchestra, the Orchestre National de Montpellier with Paul Daniel, and a performance at the Paris Philharmonie for the Tchaikovsky Competition Winners' Gala.
Last season he made return appearances at the Salle Gaveau in Paris, Sala Verdi in Milan, the Teatro Carlo Felice in Genoa, La Roque d'Anthéron International Piano Festival, and the International Piano Series in Fribourg, along with debut recitals at the Piano aux Jacobins Festival in Toulouse and the Southbank Centre International Piano Series.
In the 2016/2017 season Lukas returns to the Sala Verdi in Milan, Mariinsky-3 and the Great Hall of Moscow Conservatory, and performs debut recitals at the Montreal Pro Musica series, and The Phillips Collection in Washington, DC. His forthcoming engagements also include performances with Charles Dutoit and the Singapore Symphony Orchestra, the Japan Philharmonic Orchestra under Alexander Lazarev in Yokohama, the Toronto Symphony Orchestra, Belgrade Philharmonic, and Orchestre Philharmonique de Radio France, as well as debuts with the Slovak Philharmonic Orchestra and the Orquesta Sinfónica de Navarra under the baton of Antoni Wit.
Geniušas's musical interests are extensive. He explores a wide range of music—from the Baroque to works by contemporary composers. His repertoire runs from Beethoven's piano concerti to Hindemith's "Ludus Tonalis" cycle. He also has a keen interest in the Russian repertoire, with emphasis on Tchaikovsky, Prokofiev, and Rachmaninoff. He loves to play chamber music. He is an extremely inquisitive performer who enjoys working on new pieces by modern composers, as well as reviving rarely performed repertoire.
Notes
Robert Schumann, Faschingsschwank aus Wien , Op. 26 (1839)
Robert Schumann lived in Vienna for six months between October 1838 and April 1839. He had arrived from Leipzig (the trip took six days by mail coach) with the goal of establishing himself in the Imperial capital, as Beethoven had done before him and Brahms would do a quarter of a century later. Forcibly separated from his fiancée Clara Wieck (her father was vehemently opposed to the marriage), Schumann tried everything in his power to place his career on a solid financial footing. But whereas Beethoven and Brahms succeeded in putting down roots in Vienna, Schumann did not. After all, he could no longer pursue the career of a virtuoso pianist, having permanently injured his hand. And he failed to find a Viennese publisher for his Neue Zeitschrift für Musik ("Journal of New Music"), which he had founded in 1834.
Yet Schumann's Viennese sojourn was extremely fruitful in other ways. In addition to soaking up all that the big city could offer culturally (to say nothing of his discovery of many unpublished Schubert manuscripts, including that of the Great C Major Symphony), he wrote a lot of music during those six months—all for piano solo, since at this time he had yet to confront other musical genres. The one composition to have the word Vienna in its title, the Faschingsschwank aus Wien ("Carnival Scenes from Vienna" or "Carnival Jest from Vienna") actually begun in Leipzig before the trip, but was completed in Schubert's city.
The Faschingsschwank is one of Schumann's major cyclical piano works from his earlier years, alongside the Carnaval or Kreisleriana; some analysts have even called it the most "ambitious" among those works. Schumann himself referred to it variously as "a great Romantic sonata" or "a Romantic showpiece."
The composition does, in fact, resemble a sonata in some ways, though not in others. The opening movement, for instance, is not in the expected sonata form, which would emphasize transforming materials and being constantly on the move from point A to point B and beyond. Here we have, instead, a rondo (almost never used in the opening movement of a sonata), with a robust central theme alternating with no fewer than five lyrical episodes. Commentators have heard echoes of works by Chopin, Mendelssohn, Schubert, and Beethoven in these episodes (as if these masters appeared, one after the other, at this imaginary carnival). The only direct and unmistakable quote in the movement, however, is from La Marseillaise, a tune of which Schumann was particularly fond of (he quoted it three more times in later works). One should not forget that at the time, it was forbidden to sing the Marseillaise in post-Napoleonic Vienna.
A plaintive Romanze and a brief and playful Scherzino are followed by a passionate Intermezzo, whose effusive melody seems to call for a singing voice (1840, the year after writing Faschingsschwank, was Schumann's "year of the song," where in he devoted himself almost exclusively to Lieder). The last movement crowns the entire composition with an effervescent finale in sonata form, with a brilliant coda at the end.
Fryderyk Chopin, Seven Mazurkas (1827-1849)
During his years spent in Paris, Chopin expressed his love for his distant homeland by frequently returning to two Polish dances, the polonaise and the, mazurka. While the former was on a grander scale, stately and dignified, the mazurka, in Chopin's hands, became a highly personal genre whose character could range from heroic, wistful or folk-like, and contained some of the composer's most daring harmonic experiments. One constant feature is the typical mazurka rhythm, in ¾ time, with two shorter notes on the first beat and two longer ones on the second and third.
Geniušas will play seven Mazurkas out of the sixty that Chopin composed. The first selection, a slow, wistful piece in F minor (Op. 63, no. 2, 1846), sounds fairly simple but the melody contains many unexpected chromatic detours. The second Mazurka Op. 7, No. 3 (1830-1831) is in the same key of F minor as the previous one, but its structure is more complex, with no fewer than four separate melodic strains. The work begins with a dark introduction that returns after all four melodies have been heard. This remarkable composition was dedicated to an American—a certain "Monsieur Johns" about whom precious little is known.
Op. 17, No. 1 in B-flat Major (1832-1833) is a happy and vigorous dance with a rhythmically and harmonically ambiguous middle section. Op. 30, No. 4 in C-sharp minor (1836-1837) is one of the most grandiose of all the Mazurkas. Now subdued, now irresistibly powerful, with some virtuoso flourishes that are not typical of this genre, it never ceases to surprise the listener until the very end.
Op. 6, No. 3 in E Major (1830) has an ostinato ("obstinately" repeated) bass drone, which first appears as an introduction, without a melody over it. A number of separate melodic ideas are followed by a recall of the introduction and then of the first melody—the structural outline is exactly the same as in Op. 7, No. 3, heard earlier.
The set will end with two Mazurkas published posthumously but written early in Chopin's career, while he was still living in Poland. The A minor Mazurka, Op. 68, No. 2 (1827), shows the influence of folk music in its insistence on the raised fourth which is not a regular part of the scale. That note is even more prominent in the middle section of the F Major Mazurka, Op. 68, No. 3 (1829), where it appears over a drone bass in what may be an actual quote of a folk tune. This is only a brief episode, however; it is framed by a robust main melody with few harmonic irregularities.
Béla Bartók, Three Burlesques, Op. 8, Sz. 47 (1908-1911)
On his piano recitals, Béla Bartók often played the second of his Three Burlesques, called "A little tipsy;" his performance survives on record. In 1931, he orchestrated the piece as the fourth movement of his Hungarian Sketches. Although this second Burlesque is clearly the most popular in the set, all three are attractive virtuoso pieces that show one of the greatest composers of the 20th century in the process of developing his unique musical voice. Looking back on this period in his life two decades later, Bartók declared that these were the years that produced his earliest works in which he recognized his mature artistic self.
A "burlesque" always implies something humorous or parodistic, and music has its own ways to express hilarity. Ingenious, unexpected transformations of simple motifs in fast tempo, sudden interruptions and contrasts—these are some of the things we find in Bartók's first Burlesque, Perpatvar ("Quarrel"). In the middle movement, the famous Kicsit ázottan ("A little tipsy"), a sequence of parallel chords all on white keys is thrown off-balance by some deliciously incongruent chords with lots of black keys, producing a definite feeling of unsteadiness. Unlike the first two Burlesques, the third does not have a programmatic title, only an Italian tempo marking: Molto vivo, capriccioso ("Very lively, capricious"). It is a playful dance that maintains the "spicy" harmonic idiom of the previous movements; after turning serious for a fleeting moment, the burlesque mood returns for the rest of the piece.
Sergei Prokofiev, Piano Sonata No. 2 in D minor, Op. 14 (1912)
On July 25, 1912, the 21-year-old Prokofiev, still a student at the St. Petersburg Conservatory, played the solo part of his First Piano Concerto in Moscow. Some critics were shocked by the modernity of the young composer's writing, while others embraced his innovations with enthusiasm. Yet, as Prokofiev's biographer Harlow Robinson writes, "The First Concerto established Prokofiev as a bold new force that had to be reckoned with; whether they liked him and his music or not, critics and audiences now knew who he was."
After this momentous debut, Prokofiev retreated to Kislovodsk, a spa in the Caucasus mountains, where he composed his next major work, his second Piano Sonata. Upon publication in 1914, the work was dedicated in memory of Prokofiev's best friend, Max Schmidthof, who committed suicide the previous year.
On a much grander scale than Prokofiev's one-movement Piano Sonata No. 1 (1910), here the composer tackled a Classical, four-movement sonata scheme. But he wouldn't have been Prokofiev if he hadn't approached the traditional genre in an utterly non-traditional way. The rebellious student seemed to be telling his professors at the Conservatory: "If you want sonata form, I'll give you sonata form like you've never seen in your lives!" In the opening movement, one may readily discern first theme, second theme, development, and recapitulation as the textbooks dictate, but nothing functions as expected: the harmonies wind their way through a veritable labyrinth, the second theme is in a different meter than the first, and in general, the music doesn't have the driving, goal-oriented feel of a Classical or Romantic sonata but rather meanders along freely, and with the frequently changing pianistic textures, the emotional states expressed in the music also change constantly.
The brief second movement is a scherzo whose theme has the rhythmic uniformity of a toccata. Dense chromatic harmonies and frequent hand-crossings add an element of excitement. The middle section is a graceful dance, but pianist Boris Berman, in an enlightening book on the Prokofiev sonatas, calls attention to a certain "mechanical, puppet-like quality" in it. The opening section is then repeated in full, as one would expect in a classical scherzo.
Berman calls the slow third movement a skazka or fairy tale; the even flow of the melody and the accompaniment suggests some kind of story being told, and the mysterious chromatic harmonies would seem to indicate some eerie supernatural events taking place. The story is rich in dramatic turns and magical moments. Or it would perhaps be better to speak of not one but two interrelated stories (A and B), each repeated with added ornamentation (ABAB).
The last movement starts out as a tarantella, a fast dance of Italian origin that has a long history in classical music; but once again, Prokofiev adds a special harmonic twist to the tarantella rhythm. Nor does he hold on to that rhythm for too long. The second theme is a much rougher kind of dance, perhaps a cancan, and the two dance rhythms are sometimes heard simultaneously. The lyrical second theme from the first movement also makes a surprising reappearance. All in all, it is a wild ride. Prokofiev later recalled that, when he performed the Sonata in New York in 1918, the finale made one of the critics think of "a herd of mammoths charging across an Asiatic plateau."
Peter Laki, 2017