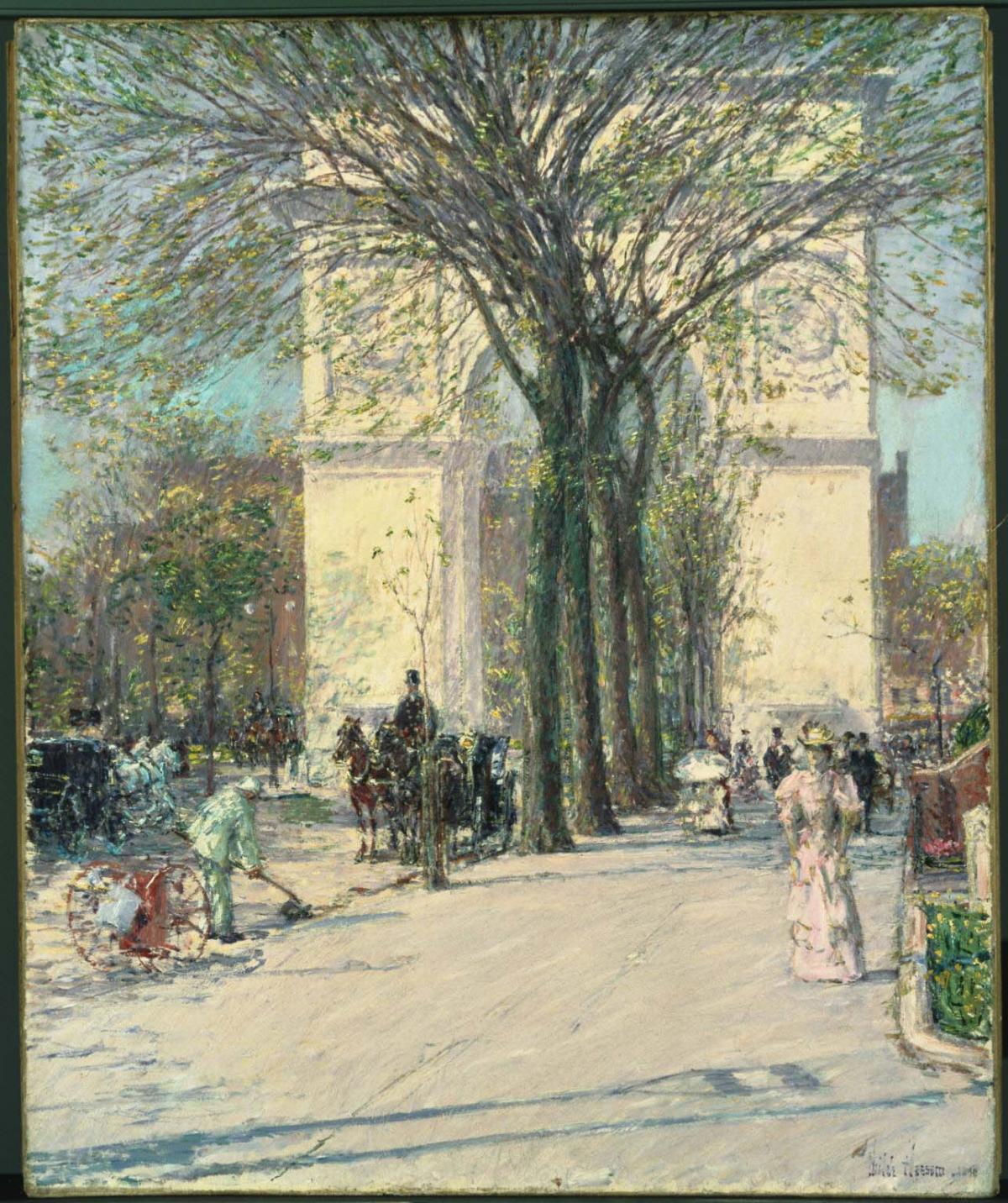 A prolific artist and enthusiastic traveler, Hassam painted a variety of outdoor locations: picturesque coastal towns and cities such as New York, Boston, and Paris. Washington Arch, Spring is an example of one of Hassam's most celebrated and distinctive themes—the city. Like the French impressionists, Hassam enjoyed the challenge of capturing the bustling activity of the street as well as the charm of tree-lined avenues. Even in his early career, before embracing impressionism, he painted city scenes in which light and atmospheric effects played an important part. By the 1880s he was using a higher-keyed palette and looser brushwork to paint the spectacle of Paris boulevards. When he returned from Europe in 1889, he began making paintings and etchings of New York. Hassam saw New York as a place of comparable beauty and excitement to the French capital in the fashionable neighborhoods along Fifth Avenue and at Washington Square. In focusing on the more elegant side of New York life, Hassam equated the city physically to the picturesque capitals of Europe, while also, as Duncan Phillips explained, reflecting the city's "awakening cosmopolitanism…."
The arch, sited on Washington Square at the southern end of Fifth Avenue, made clear Hassam's reference to a similar monument, the Arc d'Triomphe in Paris. The New York arch, designed by Stanford White, commemorated the one-hundredth anniversary of George Washington's inauguration. Hassam's residence at was just north of the Square, so he was able to watch the progress of construction, first a temporary wood and plaster structure, finished in 1889, followed by a permanent marble arch completed in 1892.
Hassam chose a vantage point at street level. Partially blocked by trees; the arch could be seen in the near distance at the end of Fifth Avenue, shown at a diagonal that sweeps into the composition. Although he employed an asymmetrical design and a light palette, as favored by his French impressionist predecessors, Hassam, like most of his American counterparts, preferred not to sacrifice structure and solid form to the fragmenting effects of broken color. He still sought the momentary and fleeting, however, remarking on his interest in watching the bustle of people on the streets as they went about their daily life. Hassam included several pedestrians in Washington Arch, along with a street cleaner and a horse-drawn carriage. He remained a detached observer, however, focusing on the larger, overall view, and capturing a genteel, sunny, picturesque world.