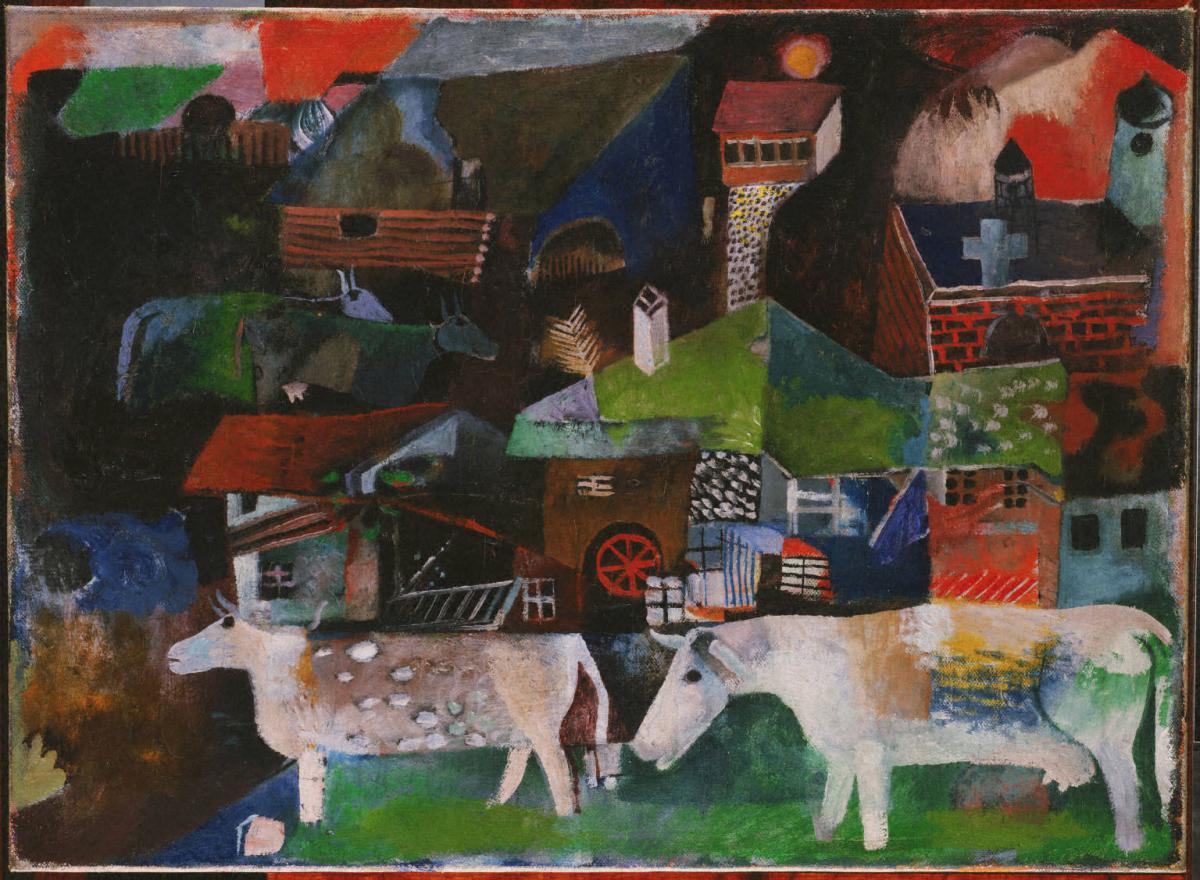 Heinrich Campendonk's art echoes the memory of his early experiences with the Blaue Reiter and Der Sturm groups in Germany, and he recalled the years of daily contact with Wassily Kandinsky and Franz Marc as the most wonderful of his life. As their neighbor in the village of Sindelsdorf, he was exposed to cubism and futurism, to the works of Rousseau and Delaunay, and to Russian as well as Bavarian folk art. However, while Marc's animal imagery expressed an apocalyptic world view and Kandinsky's pure abstractions sought to express the spiritual unity of all the arts, Campendonk remained content to be a teller of dream-like tales.
In Village Street, Campendonk employs expressionist colors and simplified forms to weave a tapestry of arcadian memory and mysticism. The Bavarian church and the houses with their lean-to sheds, gates, and fences are rendered in luminous colors – red, blue, brown – that rise out of dark, indeterminate space. Chalky gray-white highlights suggest reflected moonlight. Small pine trees jot out of the rooftops. The cows seem to float as though they were part of a dream where nature and her creatures have a magical life, far from the consciousness of man. In writing about this painting, art collector and patron Katherine Dreier referred to "a new conception of space, as of a deep, liquid medium, undefined and unbounded, a dark pool, the unique source of color and indeed of being."
In fact, Village Street is an homage to the aesthetic of the Blaue Reiter Almanac, with direct quotations taken from its illustrations, especially two Russian folk prints of village streets with herds roaming the open spaces. Also taken from the almanac are the pine trees sprouting from the roofs, a motif that appears in children's art also published in the almanac. In addition, Chagall's humorous nostalgia for village life and his blithe disregard for academic rules of perspective and scale waft through this scene.