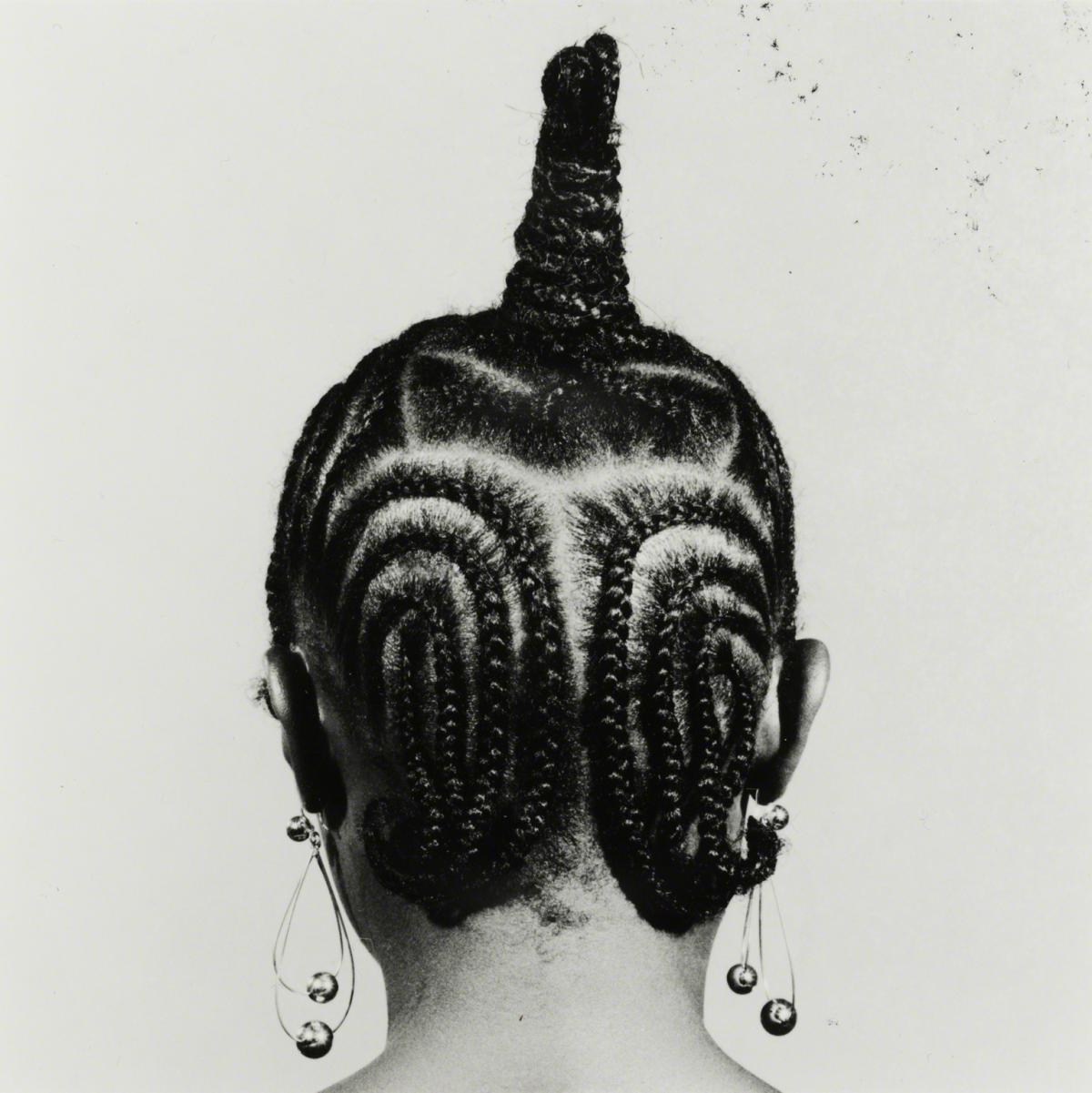 Following Nigeria's independence in 1960, traditional hairstyles made a significant comeback, adapting to the new cosmopolitan lifestyle that accompanied the nation's ascendant oil economy. Between 1968 and 1975, the critically acclaimed Nigerian photographer J. D. 'Okhai Ojeikere systematically documented Nigerian women's hairstyles, through studio practice, producing an unprecedented archive of over a thousand negatives.
In Ojeikere's photographs, hairstyling is seen as an artistic, cultural, material, and social process, forming part of the unfolding African postcolonial modernity. The term for many of the hairstyles he documented is Onile-Gogoro—a Yoruba expression meaning "stand tall"—which was used to refer to the multi-story buildings then sprouting in Nigerian cities, and popularized through the music that defined the language and social movements of the 1960s.
The Onile-Gogoro hair designs, achieved through a technique called olowu (meaning "done with thread"), involve wrapping sectioned hair into locks that are then intricately woven into a design. Through the photographs, we can see new developments in styling, including the incorporation of hair extensions and wool into traditional weaving and plaiting.
These are not conventional portraits: they disrupt the "self-imaging" of the sitters whose hairstyles are shown, since we cannot see their faces. Shot against neutral monochromatic backgrounds, the photographing of the back or side of the head draws attention to the architectural and sculptural presentation of the hairstyle. The ingenious mastery and the skill of the hairstylist is accentuated by Ojeikere's commanding lighting. The range of complexity of the coiffures speaks to the labor that went into their making. Some designs have cultural, ethnic, and class significance. In Ife Bronze, the coiffure alludes to the incised striations on the face of the Ife Head (British Museum, London), one of a group of twelfth-century copper alloy heads discovered in 1938 at Ife, Nigeria. The vertical plaited horn of hair in Ojeikere's photograph echoes the horn on the sculpture, said to signify the power to communicate with the spiritual world.
The titles of Ojeikere's photographs are often quite literal. For example, in Abebe, the word abebe refers to a hand-held fan—evoked by the coiffure—traditionally an upper-class and royal accoutrement in the Yoruba-speaking community, suggesting the social status of the sitter. Ojeikere's photographs define a particular moment in Nigeria that, in turn, formed part of the national identity. In some sense, they also document the future of hairdressing— some of the hairstyles are still plaited today across Africa and the globe, in this way coming to symbolize cross-border conversations. They also symbolize self-determination.
Text by Nontobeko Ntombela, adapted from Seeing Differently: The Phillips Collects for a New Century (The Phillips Collection in association with Giles, 2021)