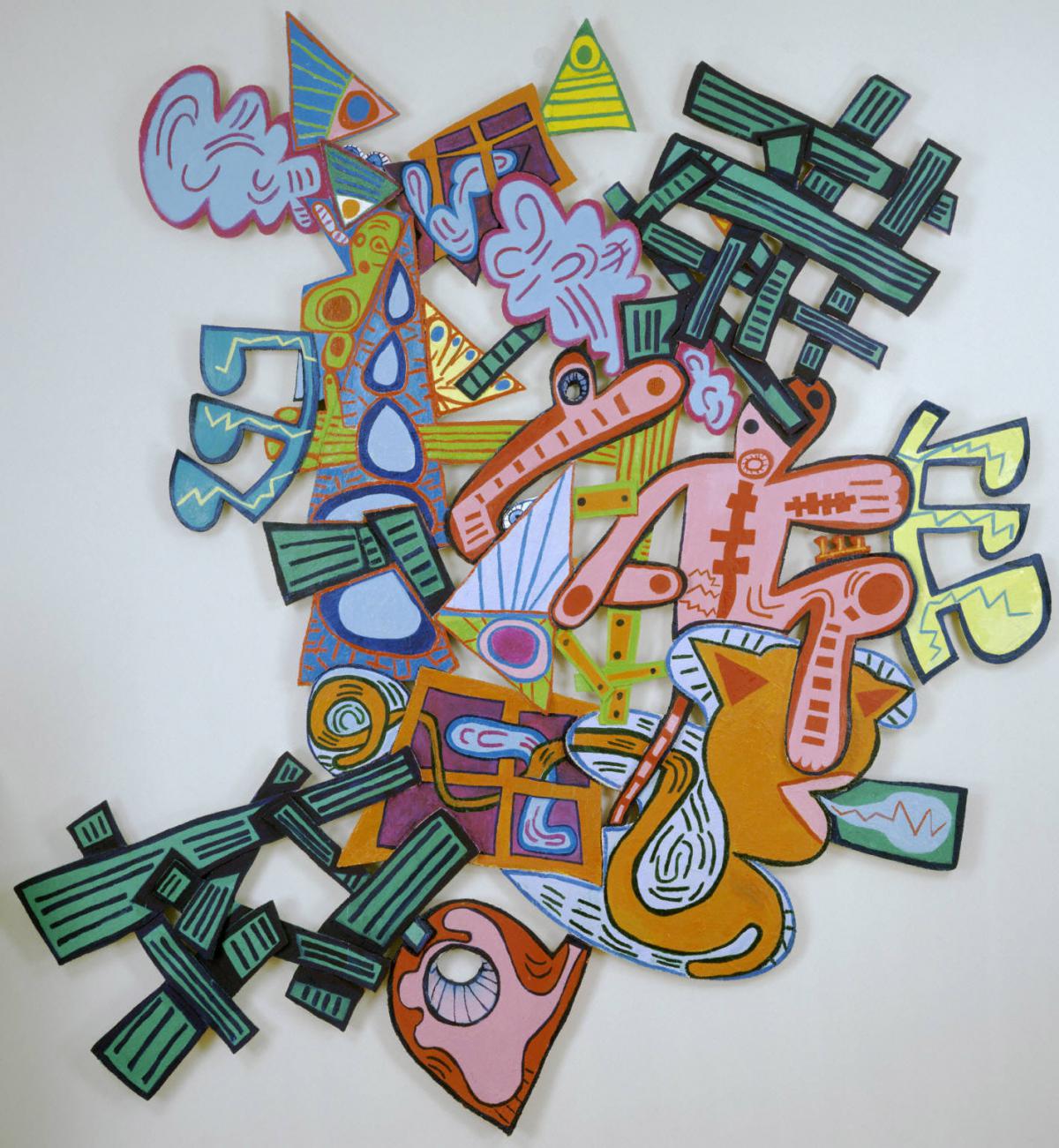 Elizabeth Murray was always drawn to the color, graphic quality, and humor of comics. At the School of the Art Institute of Chicago and at Mills College in Oakland, California, she studied cubism, surrealism, and pop art, as well as the work of Paul Cézanne, Philip Guston, Jasper Johns, and Robert Rauschenberg. In the 1970s, Murray explored the sculptural quality of her canvases determined to make her static objects move. In 1976, she freed her art from the two-dimensional flat surface to create puzzle-shaped painted pieces that jutted out into space. She began with a large drawing, then with a clay maquette, before assistants constructed the wooden armature that shaped her work.
The composition for The Sun and the Moon was planned before Murray was diagnosed with cancer. She explained: "I started painting it before I got sick. I was really having a lot of trouble with it, partly because I was starting to have these really terrible headaches…. And I put it all [in the] painting…. Then I started in on it a couple of weeks after I got back from the hospital….I had to show myself that I could work. And it was hard…. But you still have to keep at it … and gradually things start to sort themselves out. The thing that is interesting about the painting is that it shows how I had lost my mental coordination, how the forms connected."[1] Pushing ahead, she used whatever "came to hand … adjusting the colors and marks later."[2]
Murray's intense jumble of abstract and cartoon-like shapes derives from her personal repertoire of symbols that evoke feelings of anxiety and struggle. The right side shows a pink figure, with arms and legs spread, overwhelmed by a smothering cluster of brightly painted, angular forms. The figure's limbs and chest are marred by red stitches. An oversized green hashtag sign, used in cartooning to indicate the force and sound of a punch, wedges through the figure's head. Smoke blows out of its mouth, and an orange cat, perhaps Murray's pet, Abraham, weaves around the figure's legs, yowling. The all-seeing eye of God hovers near an open window, musical notes appear cracked, form and color clash with sound. Life in The Sun and the Moon is not still; turmoil reigns. This large scale, dynamic work was the first painting by the artist to enter The Phillips Collection, later complemented by three sculptural prints.
1. Phong Bui and Robert Storr, "Elizabeth Murray," In Conversation, Brooklyn Rail, October 2005: 12–14. See also https://brooklynrail.org/2005/10/art/inconversation-elizabeth-murray-with-ro.
2. In Carol Kino, "A Visit with the Modern's First Grandmother", The New York Times, October 2, 2005. See also https://www.nytimes.com/2005/10/02/arts/ design/a-visit-with-the-moderns-first-grandmother.html.
Text by Renée Maurer, adapted from Seeing Differently: The Phillips Collects for a New Century (The Phillips Collection in association with Giles, 2021)