Study of Figure in a Landscape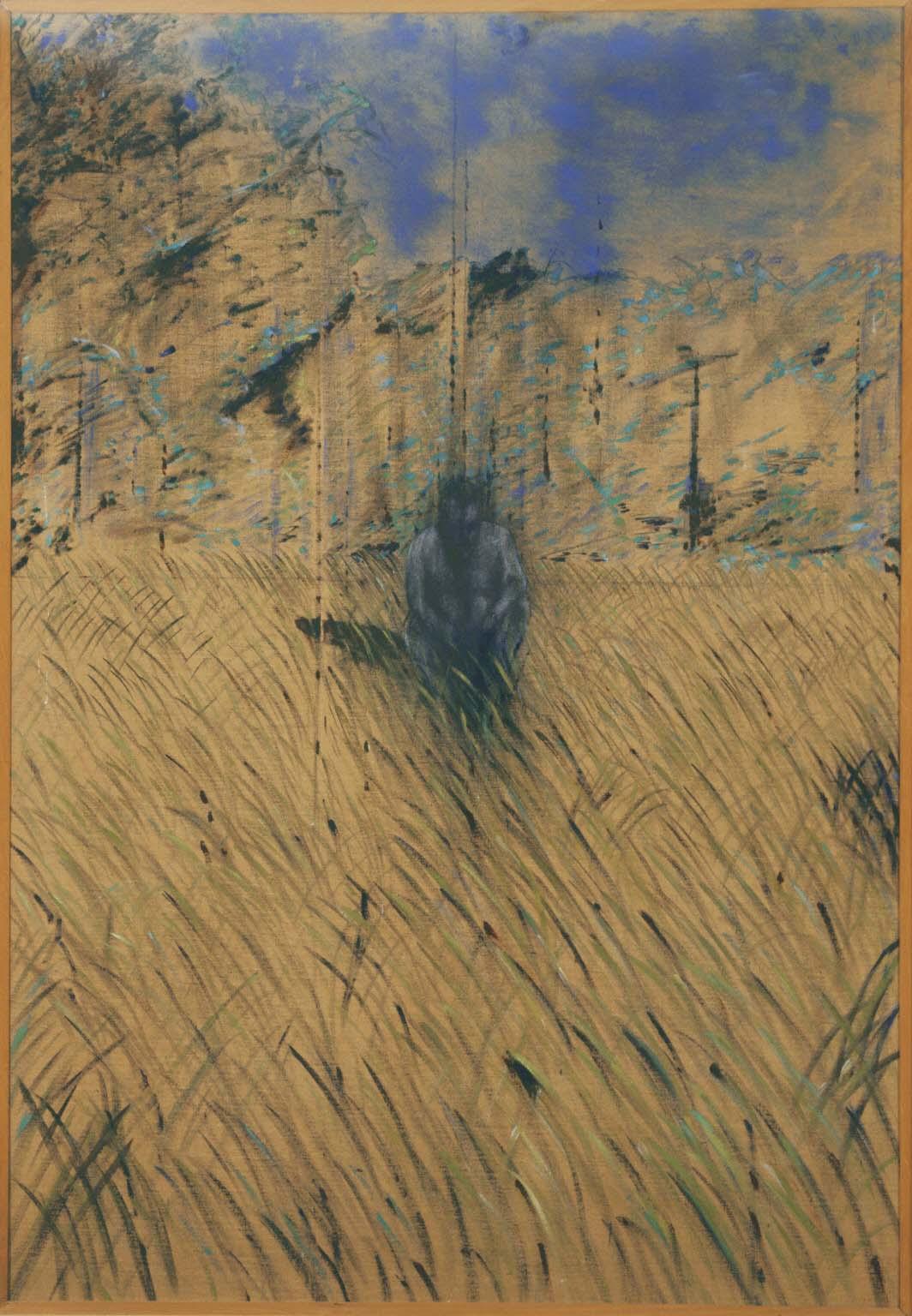 Francis Bacon spent his tumultuous youth in Ireland and England. When his parents learned of his homosexuality, they forced him to leave their home. At age sixteen, he traveled throughout Europe, spending time in London, Berlin, and Paris. In 1926, he began to draw and paint with watercolors but had no formal training as an artist. He became serious about his art in 1929, when he settled in London.
Bacon's main subjects are male figures, often screaming or in violent sexual grapples, against stark backgrounds. Painted with clinical detachment and hung framed and under glass, they provoke anxiety. In Study of a Figure in a Landscape, an austere and quiet painting, a man squats in a field, high on the picture plane and close to the horizon line. Vulnerably naked, he is an animal, simultaneously wild and tame, blurred, almost camouflaged as a shadow. The only heavily painted element in the painting and its focal point, demarcated by stippled verticals and horizontals, the figure looks as though it has been cut out of a grainy photograph and pasted onto the background, a tawny field of long, waving grass. The disjuncture between figure and background is typical of Bacon, who often used films and photographs as sources. In this case, the source for the figure was a photograph from Eadweard Muybridge's Human Figure in Motion (c. 1885). The realistic treatment of the figure contrasts with the painting of the dreamlike setting, inspired by the artist's trips in 1950 and 1952 to South Africa, where he visited the Kruger National Park. Blades of long grass are rendered individually as lime or black strokes of lean paint, black smudges suggest a background of scrubby trees, and a sky is rendered as a pastel-like rub of brilliant blue. Study of a Figure in a Landscape, a particularly delicate painting in Bacon's oeuvre, continues the landscape theme of the English paintings in The Phillips Collection. After acquiring it Duncan Phillips, who greatly admired the artist's technical skill, considered buying another work by Bacon, a portrait of a cardinal, but, finding it too alien, he ultimately decided against it.