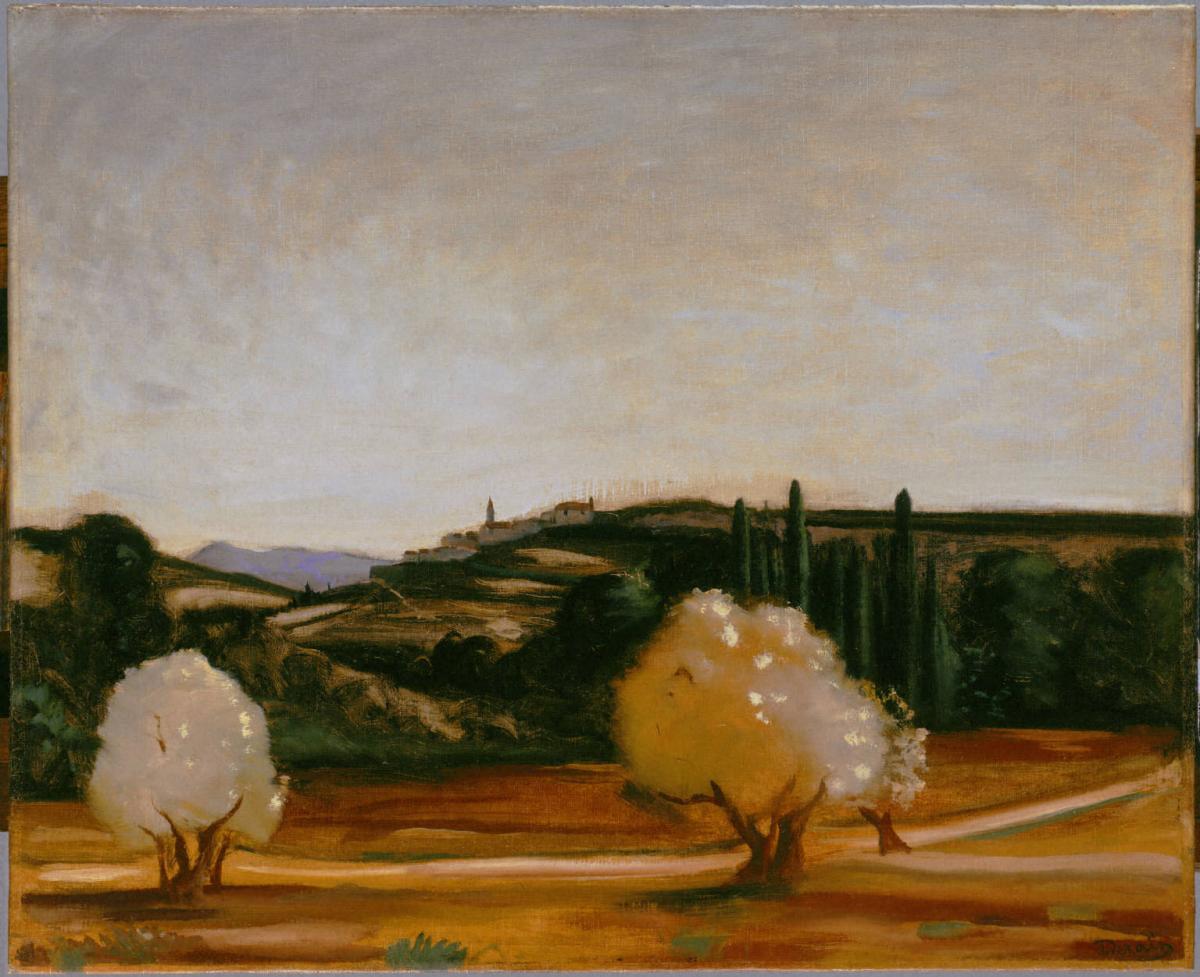 André Derain's revival of classical painting can be traced back to the burgeoning French nationalism born out of the First World War. While his friends, Picasso, Braque and Matisse continued pursuing with innovative styles, he returned to an appreciation of Chardin and Ingres. The idyllic Provençal view of Southern France, which appears in two other paintings, portrays terraced fields and olive groves crowned by a characteristic hilltop village. The work demonstrates Derain's commitment to the French tradition, reflecting the clarity, economy, and fluidity of traditional classicism; precedents can be found in Poussin, Claude Lorarine, and, as Phillips discovered, "Corot of the…clear Italian landscapes" and Cézanne, with whom Derain shared "the same disciplined passion for isolated, essentialized form." The mountainous, light-filled regions of the Mediterranean – exemplifying the idealized Arcadian landscape – cast a particularly seductive spell. Derain's annual travels included sojourns at Lecques, Ciotat, Saint-Cyr, Sanary, Saint Maximin, Bandol, Olières, and Cassis. These visits, as well as a 1921 stay in Italy, served to reinforce his delight in the light and landscape of the area.
Through the direct study of nature, evident in the work's plasticity, Derain brought to life the pastoral theme; his choice of setting allowed him the distant vantage point and broad horizon of classical landscape. In such works he sought universality and even immortality: "the man who seeks the eternal elements in form," he wrote, "can grow eternal himself." Additionally, the balanced proportions, spatial clarity, and color scheme of brown foreground, green middle ground, and blue background, harken back to both Dutch and French landscape traditions; yet the composition's almost primitive simplicity and freshness set Derain apart from them. For instance, the overall thin layer of paint was rubbed down or diluted, especially in the land mass at the left, and incisions were made with a sharp tool. These incised areas create textures that are masterfully adapted to the various forms: undulant, curling strokes suggest a middle ground of full, leafy trees, while horizontal washes evoke the barren earth of the foreground. For Derain, harmonies of form and color were central to atmospheric effects; building from a warm beige imprimatura, he balanced somber tones with passages of pale color, accented the foreground and distance with deep green, and used subtle whites to soften the olive trees, highlight the receding hillside, and suffuse the sky with light.
Southern France was praised in the press as showing "the peace and dignity of a mature talent." In describing Derain's technique in 1929, Duncan Phillips may have been referring to this painting: "…his colors…are now deep and resonant and steeped in light….[H]e places linear accents and dark contours in his compositions, crisply…in a kind of Occidental calligraphy fused with his French plastic power." Like many collectors and critics, he was immediately attracted to Derain's "return to order," finding it to be a release from artistic and political turmoil.
Phillips installed his Derain paintings with those of Renoir, the later School of Paris, and American naturalists such as Maurice Sterne, thus highlighting Derain's versatility and far-reaching influence. In 1928, he observed of Southern France: