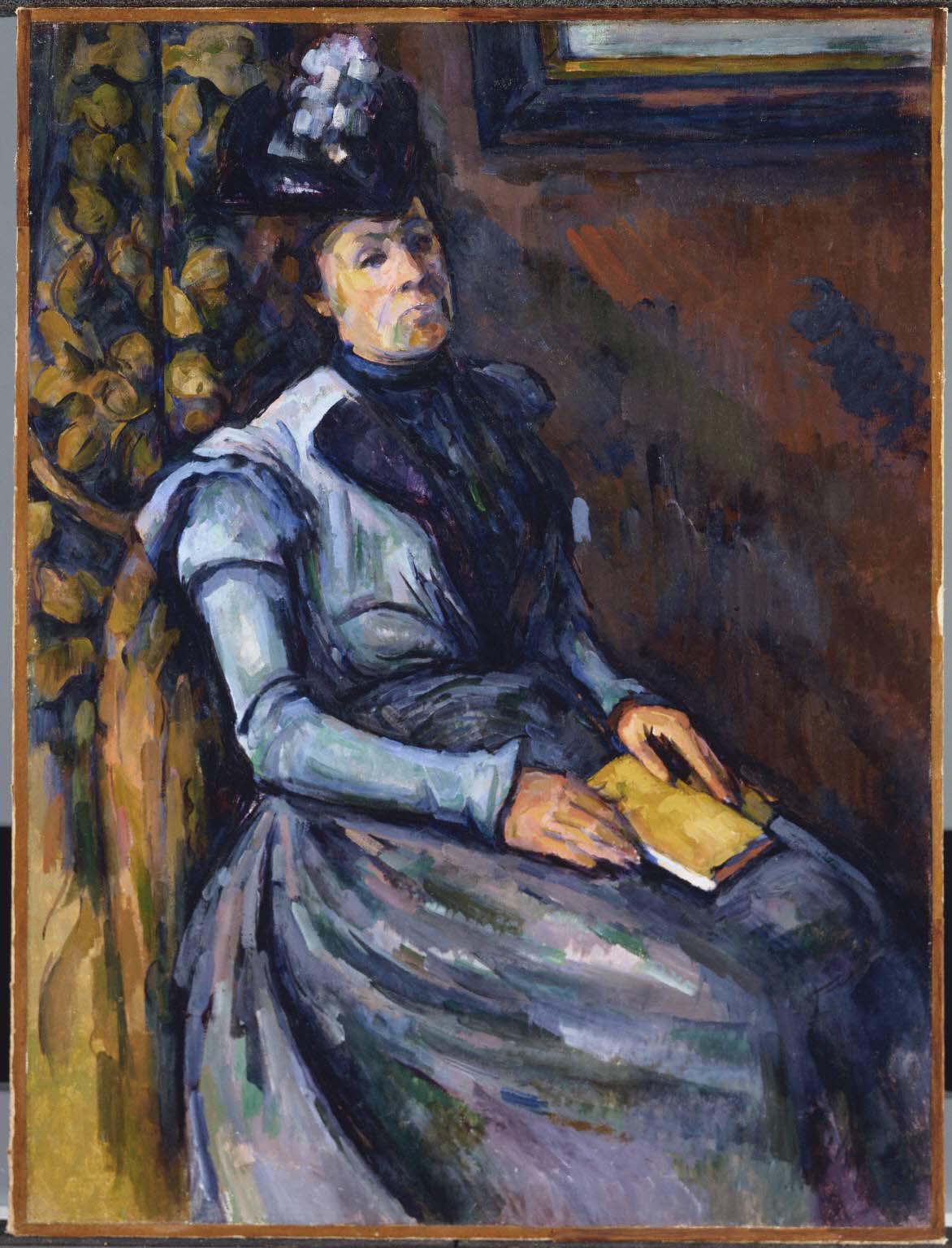 In 1939, art historian John Reward wrote that Cezanne's Seated Woman in Blue "unquestionably one of the strongest and most complete [portraits] that Cézanne painted during the last years of his life." The portrait conveys both a warmth of tone and somberness of mood.
The figure and its background seem to merge in the deep, rich tones of orange and blue, highlighted throughout in greens and browns. Shadowed effects are similarly modulated, whether in the skin tones or on the blank wall behind the sitter, and thick black paint outlines the forms, lending them a mysterious unity with the dark background. The energetic parallel strokes along the wall take on a life of their own. Together with the deep brown shadow slanting to the lower right, they are the most intensely gestural touches in the painting. Their activity is balanced by the jutting dashes of deep green and black that model the folds in the dress and by the flickering brown and green defining the drapery folds. The warm light that sweeps diagonally across the left illuminating the sitter's flesh and the background textile in gold, suggests late afternoon; yet the dominant feeling of the portrait is of suspended time—the pictorial space seems to be immutable, as if existing outside of reality.
The personality of the subject hardly intrudes on formal concerns, yet the sitter's identity remains open to scholarly debate: her identification as Madame Cézanne has had only intermittent acceptance, though Duncan Phillips purchased it as such, and in its earliest known reproduction the work was captioned "The Artist's Wife." This identification is now widely rejected. In Lawrence Gowing's view, both the lack of resemblance to Madame Cézanne and the distant, formal rapport implicit between artist and sitter argue against such an identification.
The sitter's expression and position evoke the prevalent mood of Cézanne's late portraits, which contain "a new note of somberness and mystery, a dark, flickering spirituality reminiscent…especially of Rembrandt…the subjects' postures and features so often said to be inexpressive and masklike, speak eloquently of this mood." Citing the present work's deep shadows and volumes, the painting is characterized it as "the most fully Baroque in style of Cézanne's late portraits." Cezanne's lack of intimacy with the sitter is apparent to the viewer, but her almost morose expression makes her enigmatic.