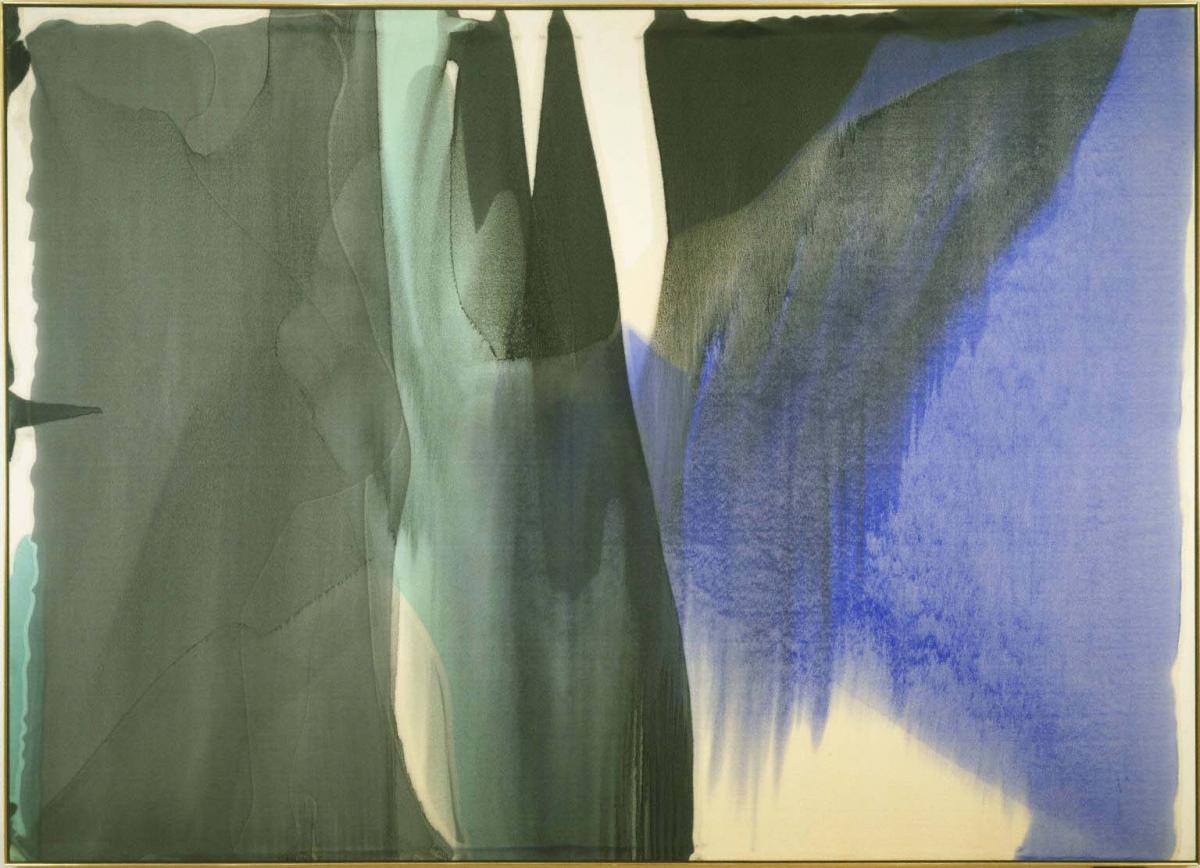 When he was not painting, Morris Louis wandered the galleries of The Phillips Collection, fueled by the colorful canvases of Pierre Bonnard and Henri Matisse and the abstractions of Arthur Dove and Mark Rothko. Louis taught nearby at the Washington Workshop Center of the Arts, where he befriended Kenneth Noland, an instructor. After a trip to New York in 1953 with influential art critic Clement Greenberg, Louis's style evolved. Having seen works by Franz Kline and Jackson Pollock, as well as Helen Frankenthaler's stained painting Mountains and Sea (1952, Helen Frankenthaler Foundation, New York),[1] Louis launched into rapid experimentation, dripping and pouring paints onto unprimed canvases. He declared Frankenthaler's art "a bridge between Pollock and what was possible."[2] For several weeks, the technically inventive Louis explored how to eliminate texture and pictorial depth from his compositions and painted without a brush.[3]
Louis worked in solitude on one canvas at a time in his twelve by fourteen-foot studio, the dining room in his Washington, DC, home. He evaluated his paintings when they were stretched for exhibition and in 1957, after his first New York solo show, he destroyed several. He explained, "The more I paint, the more I'm aware of a difference in my approach."[4] Louis developed his Veil series by pouring thin layers of transparent color from the top of his canvas, allowing the paint to absorb and stain. He preferred Magna acrylics, which dried quickly and remained distinctly vibrant and fluid when diluted. After his critically acclaimed solo show at French and Company in New York in April 1959, a burst of productivity brought forth at least a hundred other large canvases, including the mural-sized Seal. Marked by sapphire, emerald, and ebony washes, its expressive color and impressive scale grew out of a response to earlier work. For Seal, Louis shifted the angle of his stretcher, the tautness of the canvas, and the viscosity and volume of his acrylics. He allowed his paints to flow in various directions, creating a type of drawing without the trace of a brush mark.
Seal was first featured at French and Company in March 1960, when Greenberg chose a range of Veils and variations for Louis's second solo exhibition there. Soon after, Greenberg heralded a new generation of American painters that formed the Washington Color school. Many of these artists found inspiration at The Phillips Collection, and Duncan and Marjorie Phillips championed their efforts by acquiring and exhibiting their work. Seal is the eighth work and the earliest painting by Louis to enter the collection.
1. The work is on extended loan to the National Gallery of Art, Washington, DC.
2. Quoted in James M. Truitt, "Art-Arid D.C. Harbors Touted 'New' Painters," Washington Post, December 21, 1961.
3. Michael Fried, "The Achievement of Morris Louis," Artforum 5 (February 1967): 34.
4. Quoted in Diane Upright, Morris Louis: The Complete Paintings (New York: Harry N. Abrams, 1985), 15.
Text by Renée Maurer, adapted from Seeing Differently: The Phillips Collects for a New Century (The Phillips Collection in association with Giles, 2021)