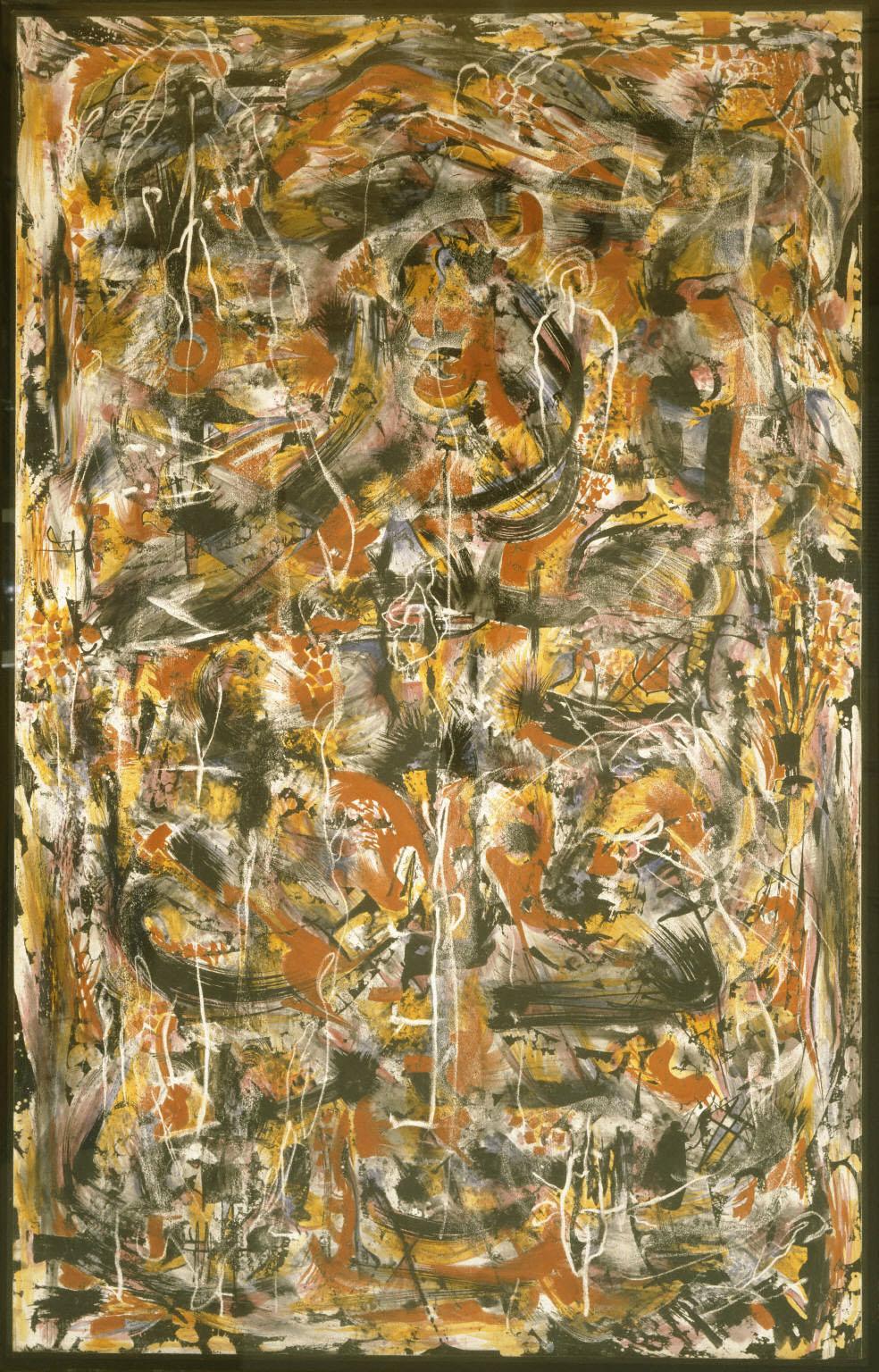 Alfonso Angel Ossorio y Yangco was one of the most colorful figures in postwar American art. An artist, collector, and patron of European and American artists, particularly Jackson Pollock and Jean Dubuffet, he lived for most of his creative life in East Hampton, New York. Born in the Philippines to a Spanish father and a Chinese-Filipino mother, and educated in England and in the United States, he started to exhibit regularly in New York in 1941. He was a multicultural artist who synthesized Surrealism, Abstract Expressionism, and Dubuffet's Art Brut collection (works produced outside of the mainstream of fine arts and typically as a result of mental or social constraints) with his Hispanic and Asian roots.
Reforming Figure is typical of the freedom in imagery and technique that was a direct result of Ossorio's intimacy with the works of Pollock and Dubuffet. He learned from Pollock how the medium itself could become the image, recording not detailed subjects but gestural force; and from Dubuffet, how a consciously intended image could be abstracted down to its most primitive essentials and presented in the bluntest possible manner. Yet in his own works, given his origins as a medical illustrator for the US Army during World War II and a surrealist painter thereafter, Ossorio stopped short of complete abstraction.
Reforming Figure belongs to a large series of highly personal and emotional charged paintings on paper that Ossorio begun while working on a mural for the Chapel of St. Joseph the Worker in Victoria, on the Philippine island of Negros between 1949 and 1950. It was Ossorio's first visit to the Philippines since he was 8 years old. Confronted with the memories of his childhood underscored by a deep Catholic faith in conflict with his homosexuality, he began reading the writings by the psychoanalyst Nandor Fodor on the trauma of birth and pre-natal conditioning. Fodor's writings had a lasting impact on Ossorio's works, which is notable in the recurring subjects of birth, mothers, and babies in Ossorio's paintings made between 1949 and 1952. Reforming Figure depicts two baby faces, one hand, and angelic wings drawn in ink on top of dense layers of wax and watercolor using the so-called wax-resist technique. This technique, which takes advantage of the fact that wax repels water, was discovered by Ossorio while studying the work of Victor Brauner, a Rumanian surrealist painter working in Paris. It enabled him to develop a language informed by Pollock and Dubuffet yet fiercely independent by combine the free-associative psychic automatism of surrealism with a direct, painterly expressionist gestures.
Reforming Figure is evidence of Ossorio's new positive understanding of his future artistic development.