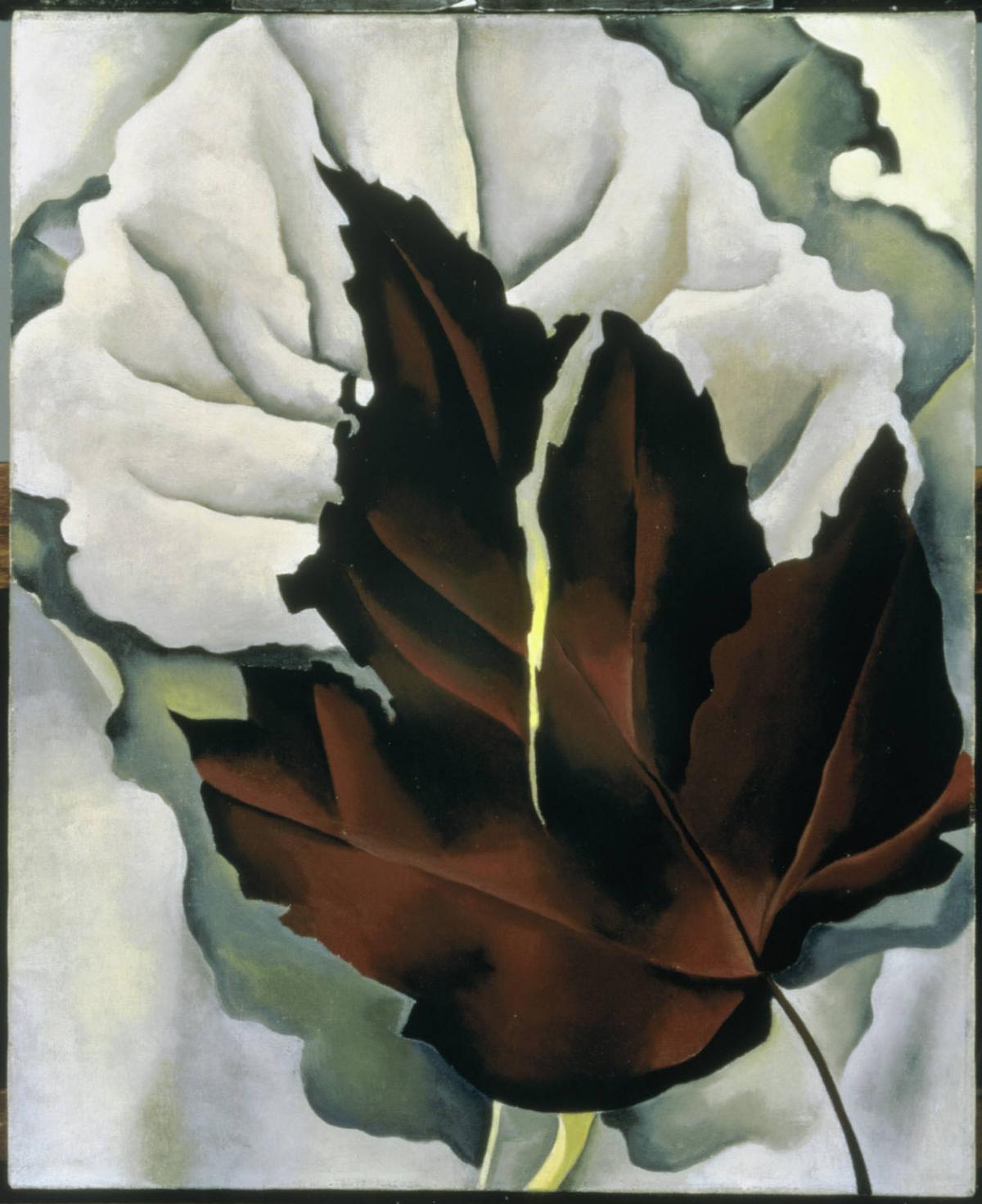 Produced in the early period when O'Keeffe was exploring the idea of enlarging the central motif, Pattern of Leaves depicts fragments of foliage magnified and cropped to fill the canvas. The results of O'Keeffe's dispassionate observation are at once coolly distant and psychologically intense.
As a significant statement in her emerging style, Pattern of Leaves reflects the crux of O'Keeffe's art: the fusion of objectivity and abstraction as a means of expressing her inner emotions. O'Keeffe transforms the lines and colors of the objective form—a leaf—into an abstract composition. The central maple leaf is placed diagonally across other layered leaves, whose silvery gray, white, and light green hues create an ambiguous space. The red leaf is set off against the pale background; however, a glimpse of yellow through a tear in the leaf pierces its surface. O'Keeffe often used fissures and tears in her leaf and flower compositions both as a dramatic formal device and as veiled reference to events in her life or to her state of mind. Thus, the jagged rip against the leaf's grain of growth serves as a compositional accent and also touches the emotions.
The sources for her characteristic style are diverse, although they are most closely linked to her training under Arthur Wesley Dow, whose theories emphasized the importance of simplifying and isolating form to reveal its essence. The exercises Dow gave his students—such as taking a leaf-like form and fitting it into a square in varied ways—provided a framework for O'Keeffe's approach to composition throughout her career. Her mature style reaffirms Dow's belief of the importance of shape to the spirit of an object. Indeed, Pattern of Leaves may have been inspired by one of Dow's exercises, which he published in his book Composition, and reveals his influence on O'Keeffe in her approach to her subject and the process by which she made her formal choices.
O'Keeffe's compositions, with their enlargement, cropping, and fragmentation, also reflect the impact of photography, which provided her with new subject matter and fresh conceptual approaches to making art. By 1919 O'Keeffe developed a perspective that synthesized painting and photography, creating a style of objective abstraction that is embodied in Pattern of Leaves. Her large single forms are often linked with the work of photographer Paul Strand, who as early as 1916 had photographed bowls and porch shadows isolated from their surroundings. O'Keeffe had seen his images, as Strand was both a friend and a member of the Stieglitz circle. Another source for her change of style and motifs can also be found closer to home—her own experiences as the subject of Stieglitz's photographs. O'Keeffe was profoundly affected by his portraits of her, which focused not only on her face, but also her hands, torso, and other parts of her body.
Duncan Phillips wrote of O'Keeffe as "a technician of compelling fascination, especially in her flower and leaf abstractions." In 1926 he described Pattern of Leaves as her "best vein of clear-eyed concentration on a detail from Nature's sorcery."