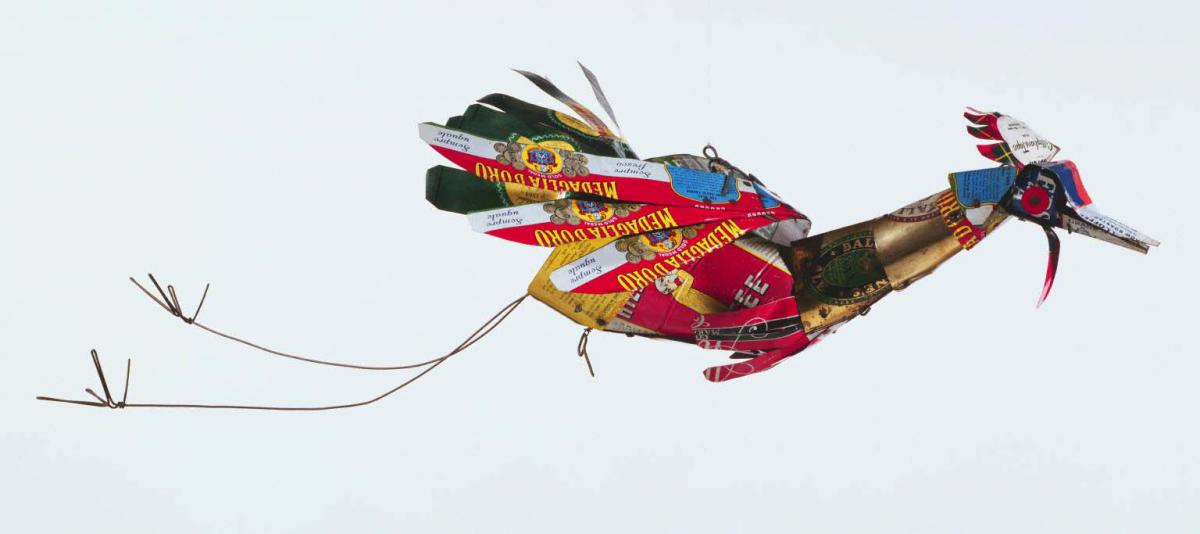 During the early fifties, while creating some of his most monumental large-scale commissions, Calder began to create a flock of smaller-sized bird sculptures constructed out of tin cans that were designed to be hung from the ceiling, swaying and rotating with each breeze. Whimsical, yet highly sophisticated, these birds recall Calder's work as a young American artist in Paris from 1926 to the mid thirties, when his toys, wire portraits, sculptures, and especially tiny circus figures were considered serious artistic expressions by the avant-garde, helping to legitimize Calder as an artist of great daring and ingenuity.
Calder remembers that while in Paris he saw on an island in the Seine "birds with long slender tails and a red disk about two inches in diameter on the end…." He considered them to be "right up [his] alley." His interest in birds can be seen even in works from his early career: among the first sculptures he created in the late twenties are small toy birds, often on wheels, made out of twisted wire and household items. Conceived in the irreverent, humorous spirit of the Dadaists, these early sculptures reflect his independence and his evolution beyond the realism of his teachers at the Art Students League.
Only Only Bird is made out of tin cans. Calder ingeniously cut and assembled the body so that at the rear of the bird, just under the tail feathers, the printed legend on one of the cans is visible: "ONLY Aborns dares reveal its complete blend because Aborns uses ONLY highest priced premium coffee and nothing else!" In addition to the Aborn's Coffee can, Calder used cans from other brands of coffee: Hills Brothers, Pastene, and Medaglia d'Oro, and he also added pieces from cans of Ballantine's Ale. Each of the cans contributes a variety of colors and patterns to the form; the title comes from the repeated ONLY—ONLY of the Aborn's can.
Marjorie Phillips had long been entranced by a color photograph of the Only Only Bird and wanted to have it in her 1966 exhibition, Birds in Contemporary Art. When Calder's son-in-law, Jean Davidson, wrote to her giving permission, he stated that the "Only Only Bird will fly faster, sing louder, than other birds in your show—it's no addition but the centerpiece! … Place all other birds at his feet!" Marjorie Phillips not only published it on the cover of the catalogue, but she also purchased it for the permanent collection, admiring Calder's whimsical ingenuity, as shown in [his] "most delightful vigorous Only Only Bird … developed from a tin can."