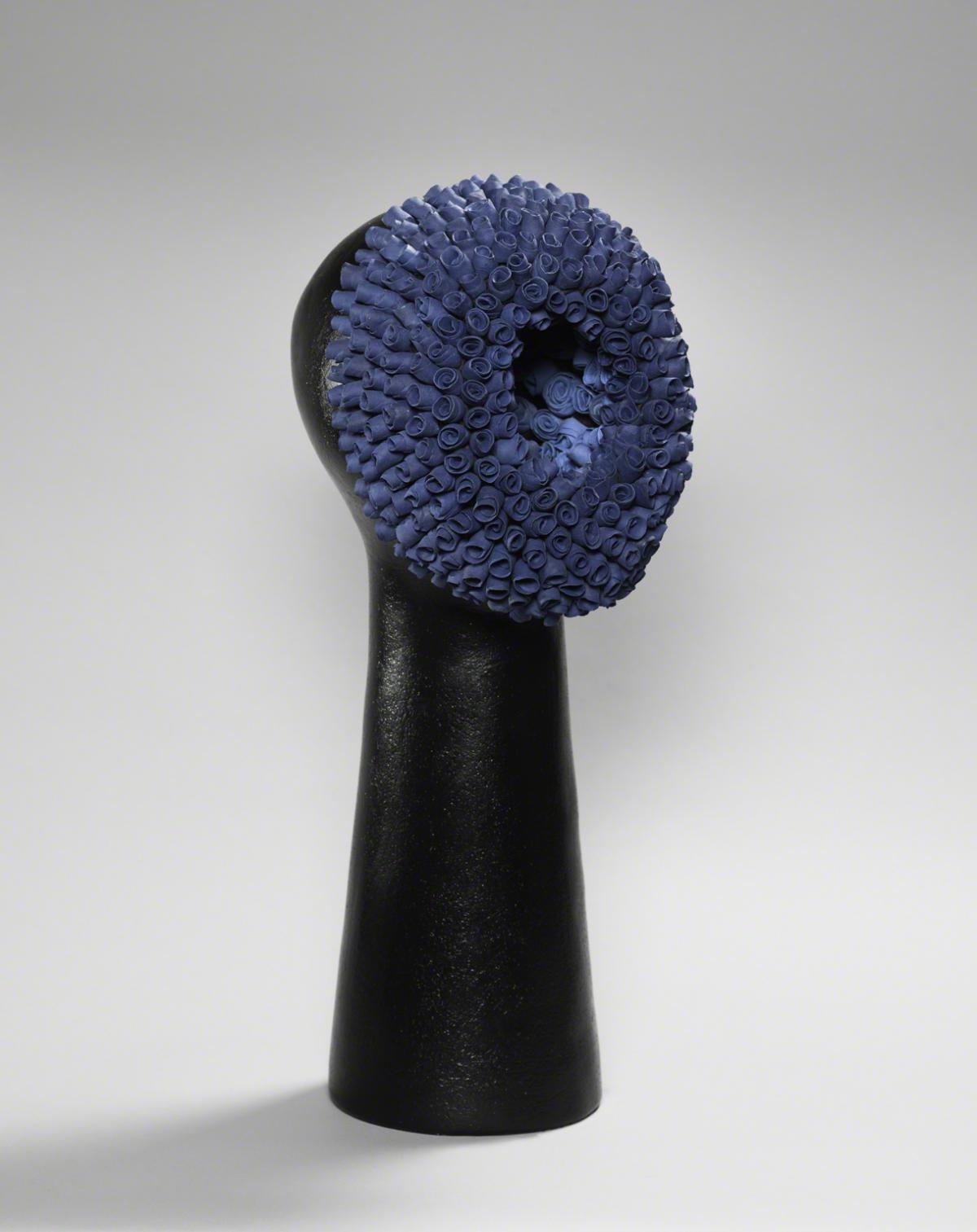 The artist Simone Leigh has described her work as "auto-ethnographic,"1 and she has sought to unearth a plethora of pioneering Black women through her multidisciplinary practice. As a ceramist and artist who brings social sensibilities to her work, Leigh creates objects and worlds that remark on architecture, womanhood, and abstract figuration. In No Face (Crown Heights), a smooth, life-size black bust, an elongated neck accounts for the greater part of the object and supports a small round ball of a head. The comprehensible analogy to human anatomy ends there: a cluster of several dozen blue terracotta blooms appear on the plane where we might expect a face. The markers that allow us to determine finite descriptors of identity and personhood—face, nose, eyes, lips—are made indiscernible in this facial bouquet. What are we to make of their absence? Perhaps it is not a lack, but rather indicative of a figure turning inward to become whole. What freedoms could be gained if we went inside? This abstract face has become commonplace in Leigh's sculpture; a smooth black surface where eyes should be, lips unambiguously full, or absent altogether.
The reference to Crown Heights—a neighborhood in Brooklyn that was once referred to as "Weeksville," a haven for Black free people in the nineteenth century—gives the abstracted figure a geographic refuge and invokes an earlier social sculpture project by the artist, Free People's Clinic, a programmatic activation at the Stuyvesant Mansion that celebrated the lineage of Black female medical pioneers from nineteenth century Weeksville, such as Dr. Susan McKinney Steward. In the past, Leigh has focused on the tradition of unidentified African women potters, in which authorship is defined by the whole, so that one artist cannot be distinguished from the others. Her abstracted figures reflect this collective authorship, as in No Face (Crown Heights), as well as in a group of other works by the artist, also titled "No Face." With their facial opacity, like the vessels made by the anonymous African women, they tend to exist outside time, thus invoking a seriality of memory and memorial as it pertains to Black female embodiment across time and space. Furthermore, the blooms on No Face (Crown Heights) suggest that there is the opportunity to germinate once we choose interiority, once a face cannot be captured. If we consider the history of Black women, as Leigh often seeks to do, it is understood that such histories are fraught with violence, escapism, and a matrilineage that has been plagued by the inheritance of bondage. In this case, breaking fugitivity—seeking a particular interior freedom— sometimes requires a fugitive hiding in plain sight.
1. "Sculptor Simone Leigh finally gets her due." CBS This Morning, https://www.cbs.com/shows/cbs_this_ morning/video/LB9sKvAsLnOZzYEMpPin1wEVrbqW nzK0/artist-simone-leigh-finally-in-the-spotlightreflects- on-her-naysayers/. Aired April 27, 2019.
.
Text by Taylor Renee Aldridge, adapted from Seeing Differently: The Phillips Collects for a New Century (The Phillips Collection in association with Giles, 2021)