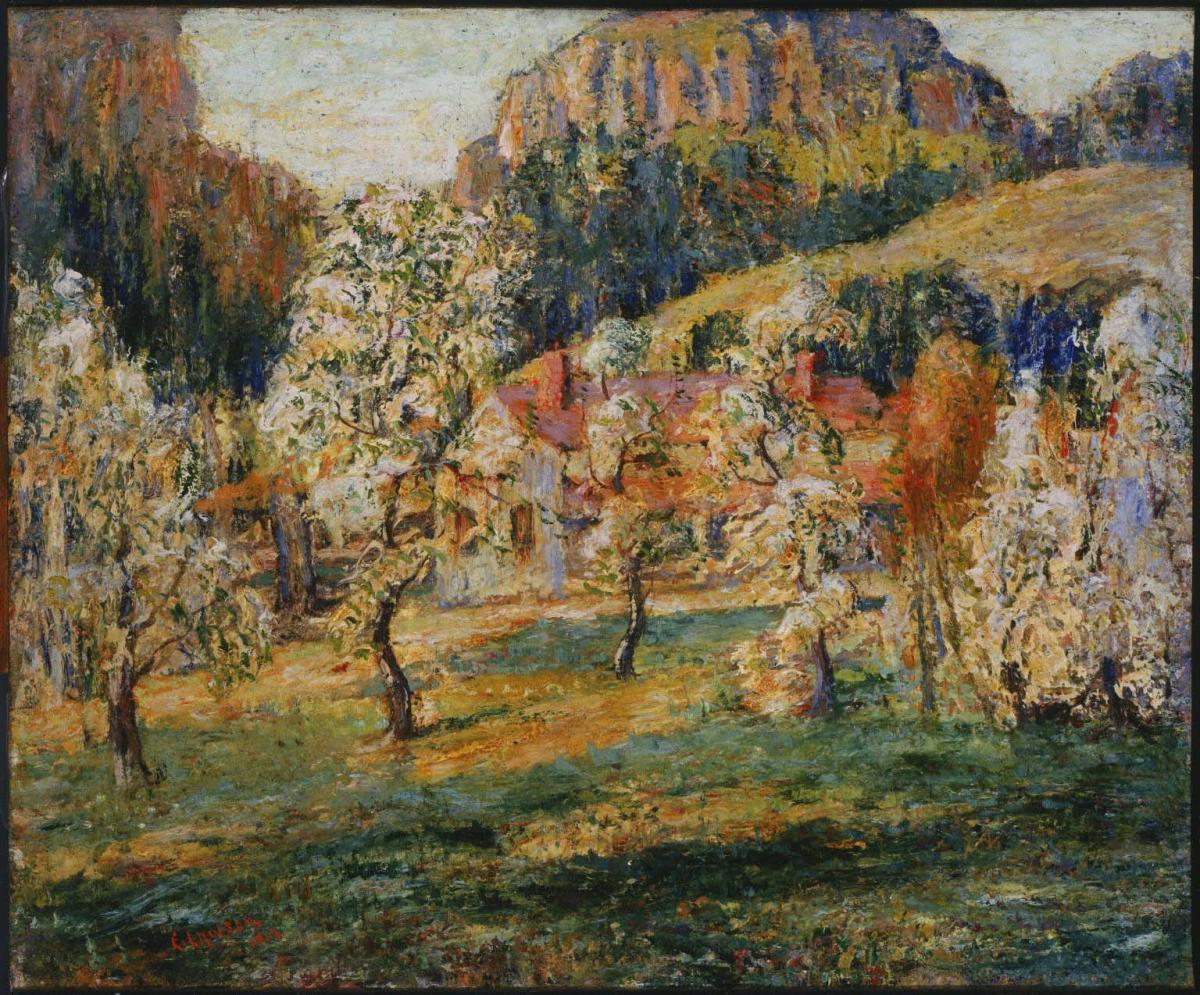 Lawson's distinctive landscape style evolved gradually, departing from the hazy yellow-greens and soft compositional transitions of his teacher's John Henry Twachtman-inspired early work, toward the classical landscapes in cool blues and greens, and culminating in the near-expressionist style of May in the Mountains. The artist himself later described his response to color:
Color is my specialty in art….It affects me like music affects some persons—emotionally.
I like to play with colors like a composer playing with counterpoint music. It's sort of
contrapuntal fashion, and you get one effect. We don't actually copy nature in art.
Nature merely suggests something to us, to which we add our own ideas. Impressions
from nature are merely jumping off points for artistic creations.
May in the Mountains, a riotous celebration of spring, has the tactile pigments, frantic bursts of color, raised horizon, and psychological intensity of a painting by van Gogh. Lawson applied multiple layers of paint, at times rubbing them into the layer beneath, and forming a built-up network of colors—yellow, white, and grass-green; some are blended, some placed side by side in short strokes. He juxtaposed warm and cool shades and bathed the scene in a form-diffusing light that blurred the middle ground under a wealth of blossoms.
The massive and craggy mountains in the background recall his early childhood in Canada rather than New England. The scene is possibly a composite created from memories of Cornish, New Hampshire, where Lawson and his family spent summer 1919, and Nova Scotia, where the artist had an exhibition that year.
One of the few paintings dated by the artist, May in the Mountains was ranked sixteenth in Duncan Phillips's list of his eighty favorite oil paintings he recorded in 1922, just before works by Augustus Vincent Tack and Monet. Phillips described the painting around 1924 as "an orchard of flowering trees in a mountain valley where the ecstasy is like the rhythm of the morning stars when they sang together."