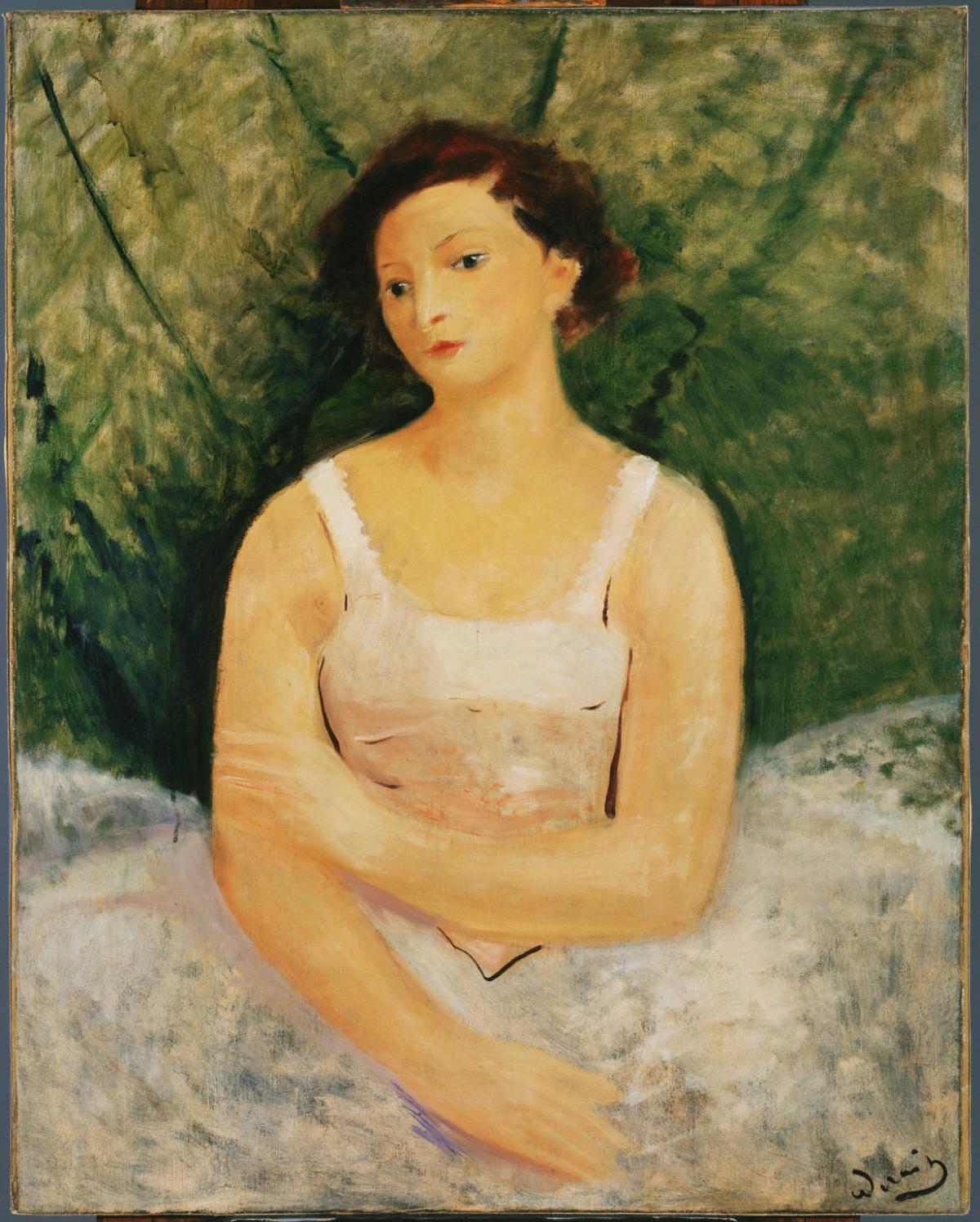 André Derain played a pivotal role in early European modernism, inspiring the work of both Matisse and Braque. However, after his service in the army during World War I, his work and source of inspiration shifted to a more classical, academic style, though still based in the modernist techniques.
Derain's Mano the Dancer alludes both to Watteau's performers and to Manet's simply composed, loosely painted figures. Further, Derain had created decor and costumes for the ballet in 1916 and 1919, sparking a period of sustained focus on Commedia dell'Arte themes. "Theater," he wrote, "is the manifestation of a human archetype made up of the individual or the actor and all the individuals and the spectators….The creation of a superhuman type is the supreme end of art." The imposing size, generalized features, and somewhat mannered pose of Derain's model, Mano (who might have been a dancer with the Ballets Russes or an artist's model posing in costume), indeed evoke a universal "type" as well as a specific individual.
Derain began to experiment with a textured, fresco-like background in 1922, handling the paint with increasing looseness throughout the 1920s. In Mano, perhaps inspired in part by lithography, he juxtaposed two techniques: black lines and sharp angles, thinly applied, to define the facial features and give contour to the body; and blurred, feathery taches of rubbed-on paint, picked out in low relief, throughout the costume and the green background, to soften the composition. The model's hands blend into her massive arms, and the dress merges into the background. Radiating lines suggest an energy emanating from the woman herself. The area of her torso and waist, emphasized by her framing arms, contains the composition's warmest tones, recalling Derain's dictum that "light has to emanate from the picture. The real subject of the picture is to create light, the only medium of painting."
The subdued palette of jade-green, cream, and pearly flesh tones, and the wistful expression and tilted head lend this painting an air of melancholy reminiscent of Watteau. It inspired Phillips's immediate enthusiasm, and he purchased it on sight. For him, it "reveal[ed] Derain's position in the direct line of the French classic tradition." The press too was overwhelmed; a "storm of applause" ensued, including reproduction on the cover of the March 2, 1929, Art Digest, and the declaration of one critic that "no finer Derain has ever come to this country…" In an interesting twist of events, Phillips attempted to sell the painting in 1943, possibly in reaction to Derain's fading reputation. Ultimately Phillips was unsuccessful, and the painting remains in the collection and is regarded still as one of Derain's more significant and beautiful works.