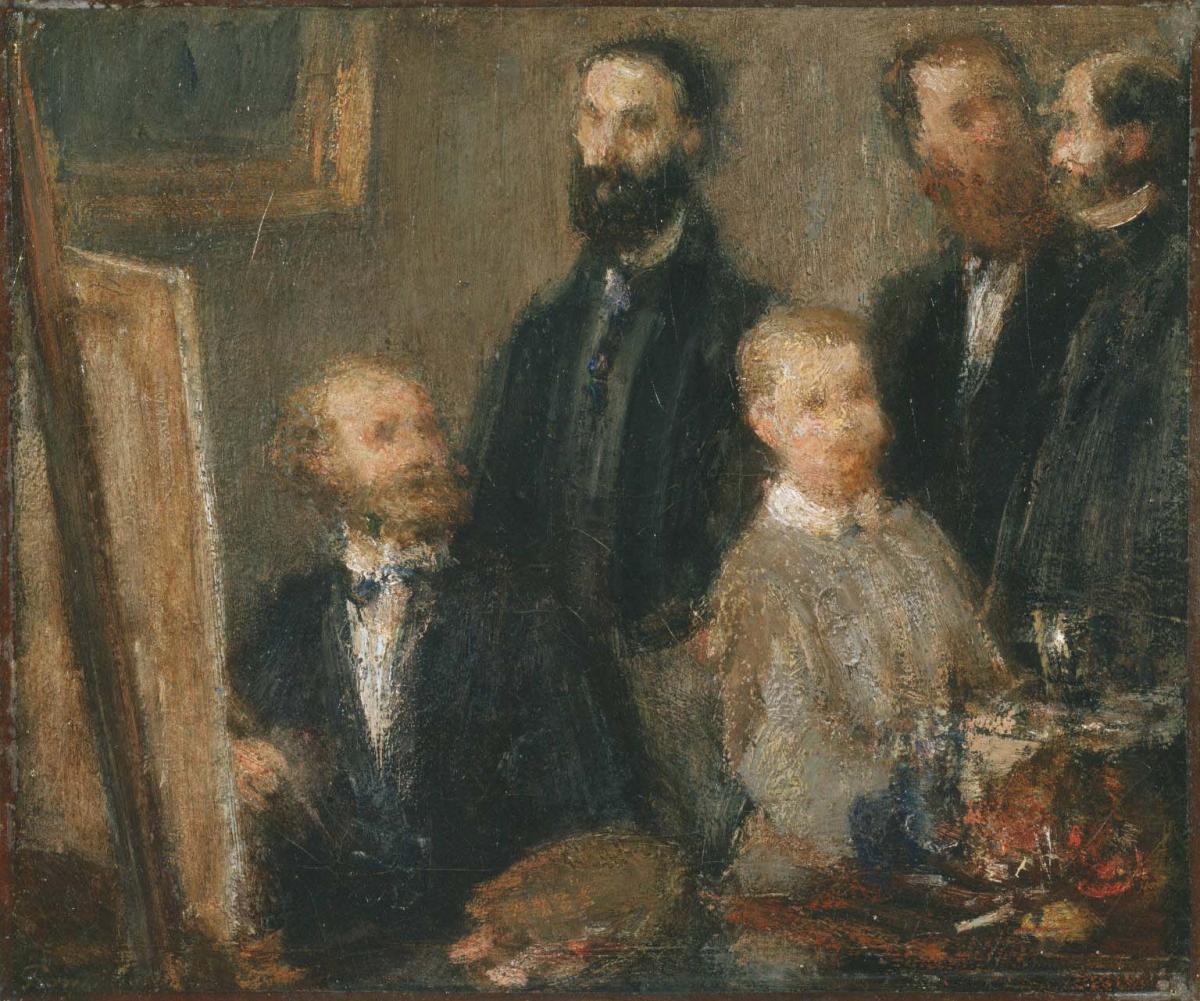 This oil sketch celebrating Edouard Manet is a group portrait of an artistic gathering, popular during the nineteenth century. This was not the first time Fantin had painted his friend and fellow artist: in 1867 he sent to the Salon a highly elegant portrait of Manet as a dandy, without the attributes of his vocation. The Phillips canvas has often been considered a study for A Studio in the Batignolles, 1870 – now in the Musee d'Orsay – which shows Manet at the center of an assemblage of artists and critics. However, it is likely that it is a variant executed after Fantin had started work on the Batignolles painting.
In this sketch Manet is seated at his easel, holding a palette, and three figures stand behind him. The two on the right are engaged in conversation, while the one closest to him examines the canvas. Directly to his right is a small boy standing behind a table and holding a tray, who has been identified as Léon Koëlla-Leenhof, a member of Manet's household, and the subject of the Manet watercolor Boy Carrying a Tray, 1860-61, in the Phillips.
More than a casual illustration of an artist and his friends, Manet in His Studio conveys the idea of tradition and pedigree. Recent scholarship suggests that it refers to Manet's debt to and reverence for Velázquez through a series of subtle allusions. Manet was a great admirer of the Spanish painter, as he made clear in a letter written to Fantin from Madrid several years earlier. Fantin was familiar as well with pictorial evidence of Manet's regard for Velázquez, for the sketch appears to conflate elements derived from two small paintings by Manet that paid tribute to the Spanish master; one showing him at his easel being observed by two friends, and the other, now in Lyons, showing the detail of a small boy bearing a tray.
Unlike his contemporaries, who sought to exploit the possibilities ofalla prima painting, Fantin remained primarily a studio painter. He avoided this spontaneous manipulation of paint in finished works, in which he achieved a highly polished and anonymous surface through controlled application.