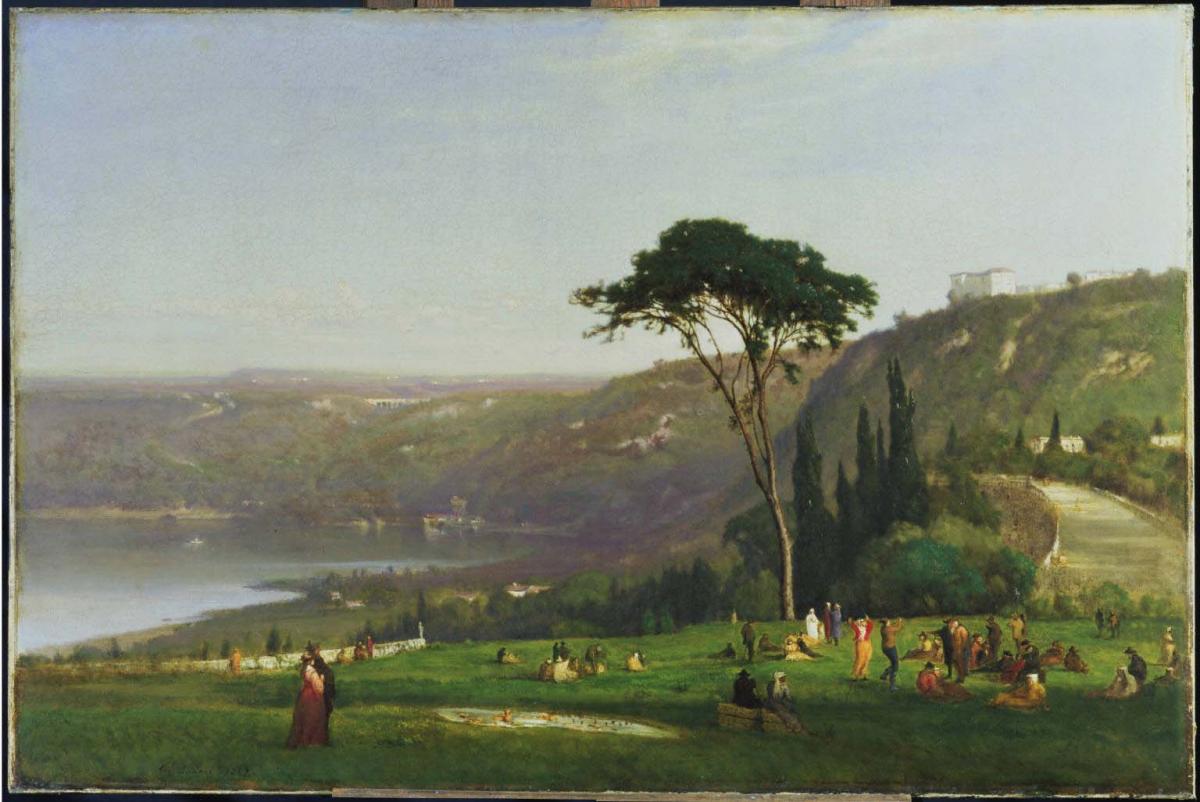 Lake Albano is a fine example of Inness's work at mid-career. A sweeping view of a lake 12 miles south of Rome, the landscape features groups of figures in fashionable clothing and rustic peasant costumes and shows in the background a section of Roman aqueduct, a castle, a tall stone pine, and a stand of cypress trees. Curiously, Lake Albano is dated 1869, the year before Inness returned to Italy to paint Italian views for an American market, so it may have been composed from the artist's stored memories of his Italian sojourns. Nevertheless, Lake Albano resonates with authenticity and charm.
The Italian countryside held a special attraction for Inness. Preferring what he later called "civilized landscape" to the wilderness, as a young artist he painted landscapes reflecting the classical tradition. As his style matured, tight drawing and idealized scenes gave way to broader handling and a greater sense of atmosphere, light, and the expressive qualities of nature.
Because of its feeling of vivid, first-hand observation, Lake Albano relates more closely to Inness's Italian paintings of the 1870s than to his earlier American scenes. Some of his most daring color effects and pictorial compositions are found in his Italian landscapes. Lake Albano also shares with the later paintings a smooth, polished surface achieved through luminous glazes, as well as some picturesque elements and experimental pictorial effects, for example, the open spaces on the left side of the composition. While retaining the tranquility and deep space of the classical tradition, Inness abandoned the enclosing framing devices he used in his early works. Though classical landscapes usually included a few figures, Inness expanded this formula here, enlarging the figure grouping to a large gathering of contemporary figures engaged in a variety of activities.