La Répétition au foyer de la danse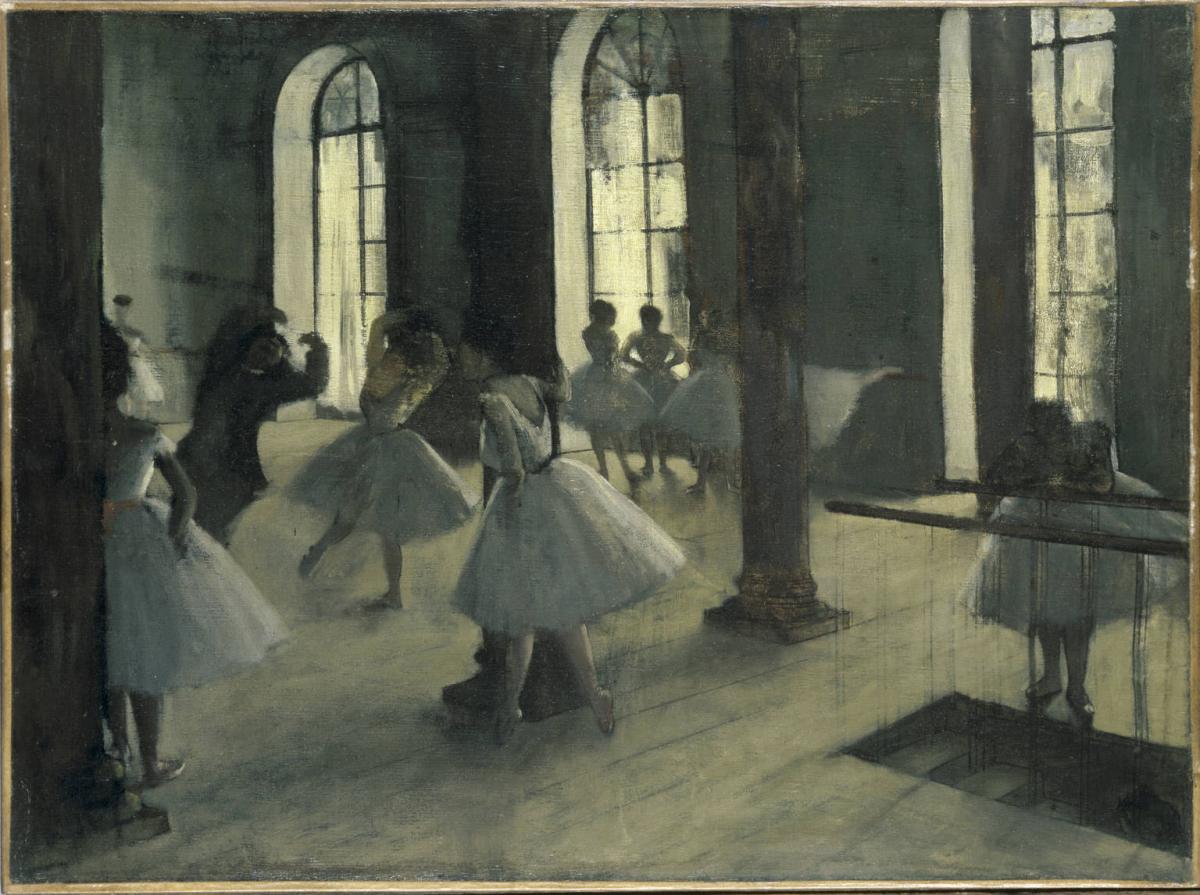 In both subject and execution, this painting speaks to many essential qualities of the art of Edgar Degas: observation, refinement, composition, balance, discipline, and ceaseless repetition that we also associate with the art of classical ballet—one of Degas's central subjects. For Degas, dance was a lifelong passion, the one to which he devoted the largest number of works—drawings, pastels, prints, paintings, and sculpture—and for which he was and remains to this day the unparalleled master. He believed, like the artists of classical antiquity, that the human figure was art's most important subject, and the dancers who spent their days practicing, rehearsing, resting, and performing at the Paris opera house offered a vast repertoire of poses, a seemingly infinite resource for the study of human, mostly female, anatomy. La Répétition au foyer de la danse (Dance Rehearsal) depicts a group of dancers practicing in a lofty room of the old Opéra on rue Le Peletier, and initiated a sequence of paintings in the 1870s of dancers in this space.[1] Although the old opera house burned down in 1873, around the time Degas painted this work, he continued to situate future dance rehearsal subjects in this same room, which he modified as freely as he rearranged the poses and groupings of dancers themselves.
In this almost colorless rendering, daylight enters the room through tall windows, arched at the top and extending to the floor, silhouetting figures against the light, an effect Degas favored at this time. To create these compositions he drew upon countless life studies. Contrasting exquisite line with blurred effects suggesting movement, he enlivened this grisaille image with the dancers' sheer fanned skirts and colorful sashes. The instructor demonstrates a step to a dancer, arms raised in arcs as he tilts his body back and to the side. Some architectural elements such as the railing and suggestion of stairs to a lower level appear to be an invention to give one of the dancers something to lean on, an element eliminated in later renderings of this space. One of two closely related paintings of dancers that Degas showed in the third impressionist exhibition in 1877, La Répétition au foyer de la danse reveals his preoccupation with compositional theme and variation that expanded during the 1870s. For all the informality and verisimilitude suggested by the painting, Degas's method underscores the combination of observation and invention in constant dialogue in his work. While this painting appears to have few revisions, it is painted over a previous image on the same canvas, a vertical portrait possibly of Degas's father.[2]
In the late 1870s, Degas suffered significant financial losses due to the bankruptcy of his uncle's business in New Orleans, and he badly needed buyers for his work.
La Répétition au foyer de la danse
was purchased by an English collector, Henry Hill of Brighton, then entered a private collection in America, and eventually became a gift to The Phillips Collection. It fills a gap made by Duncan Phillips himself, when in 1952 he gave to the Yale University Art Gallery (his alma mater) the very first Degas— another scene of a ballet rehearsal (
The Ballet Rehearsal
, 1885)— that he had acquired for his museum.[3]
1. Eliza Rathbone, "Degas's Dancers at the Barre: Years in the Making," in Eliza Rathbone and Elizabeth Steele, Degas's Dancers at the Barre (Washington, DC: Phillips Collection, 2011), 23–24, and n. 15.
2. Rathbone and Steele, Degas's Dancers at the Barre, 116–17.
3. Eliza Rathbone, "Degas in The Phillips Collection," in Rathbone and Steele, Degas's Dancers at the Barre, 105–6.
Text by Eliza E. Rathbone, adapted from Seeing Differently: The Phillips Collects for a New Century (The Phillips Collection in association with Giles, 2021)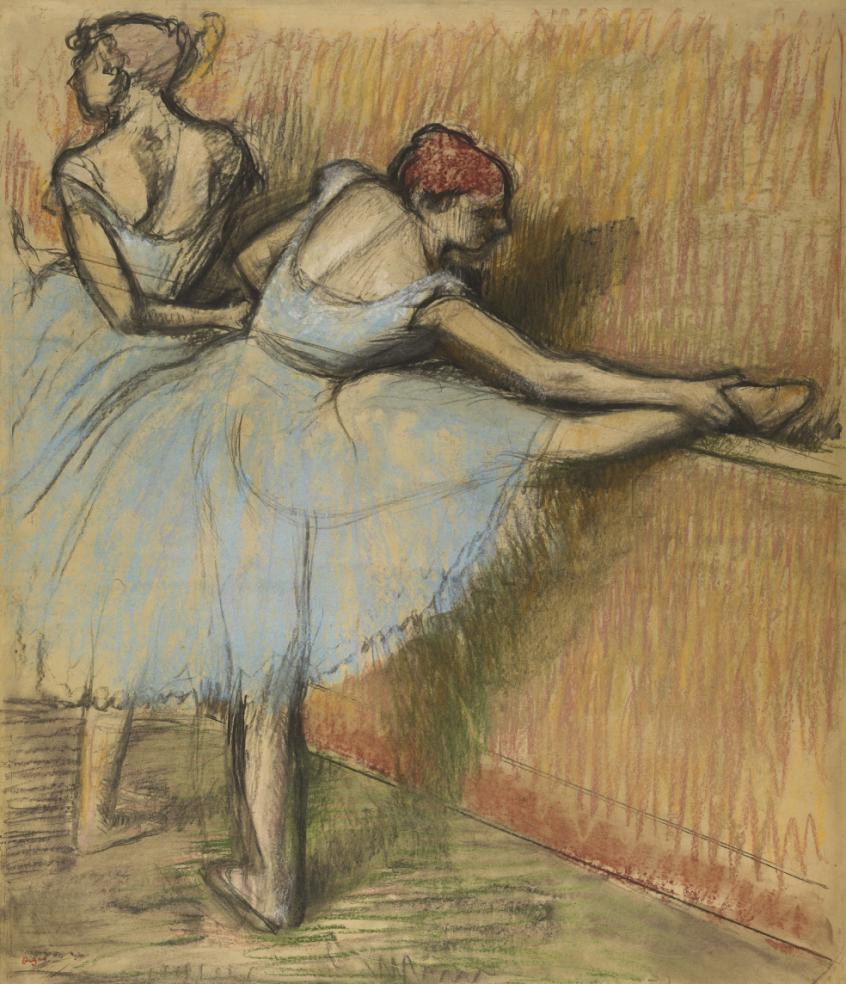 Degas's Dancer's at the Barre: Point and Counterpoint explores La Répétition au foyer de la danse