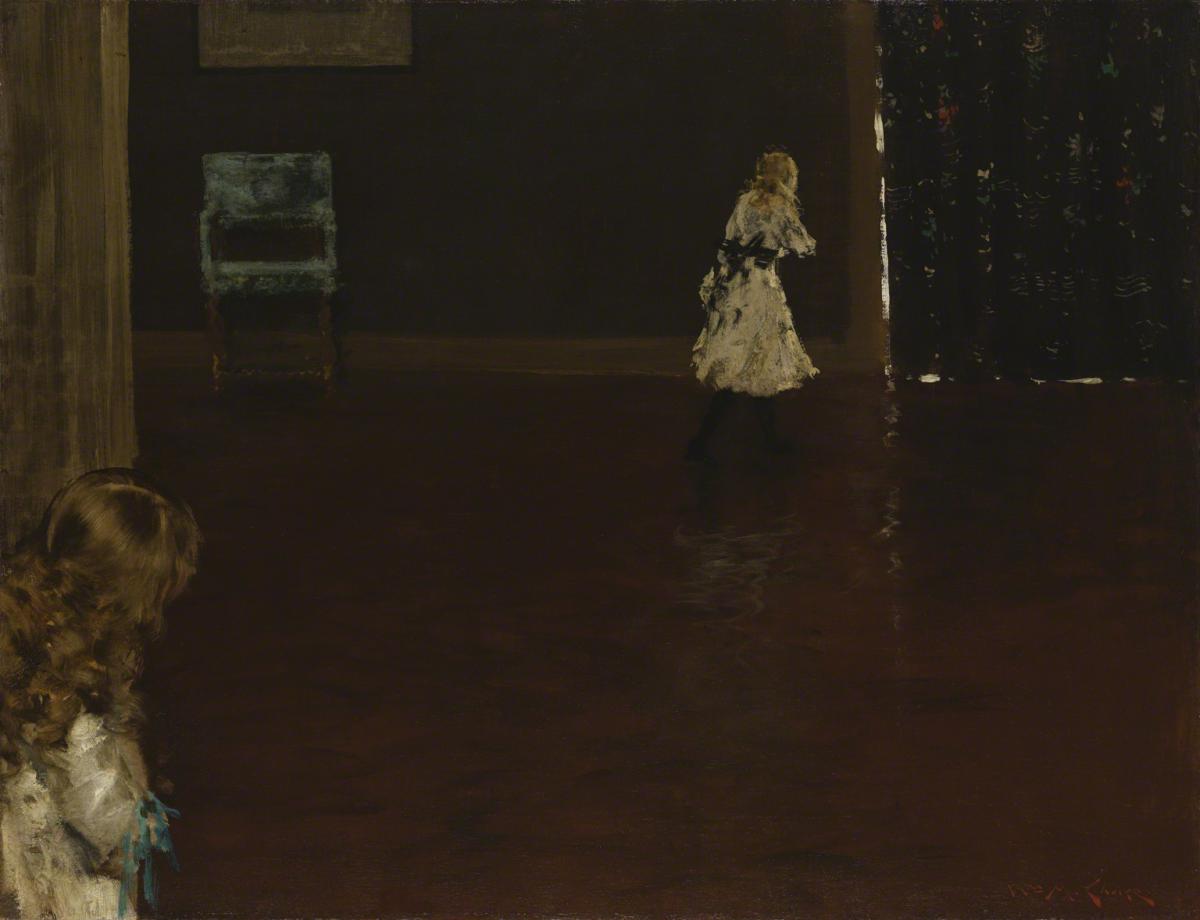 When Chase returned to New York in 1878 from his studies abroad, he was armed with the dark palette and bravura brushwork of the Munich school. Yet he remained receptive to other influences. By 1886 his work began to show the effects of plein-air painting, a technique he had practiced in Holland as early as 1880, but which he would not take up again until several years later, at Shinnecock, New York, where he produced many impressionist paintings. Hide and Seek is a transitional work: while its dark colors place it well within the tradition of the Munich school, its broken brushwork and the suggestion of a fleeting moment in time captured by light, foreshadow the landscapes that comprise Chase's mature style.
In this work, Chase focuses on a familiar late nineteenth-century theme of children at play. Usually noted for his lavish and exotic interiors, in Hide and Seek Chase emphasized economy of object and understatement of color, creating a composition that is at once radical and mysterious. Only four objects are included—a chair, a picture or mirror frame, an oriental curtain, and the door jamb or curtain behind which a young girl is hiding while she watches her playmate. We are drawn by the rapt attention of this child while at the same time, our eye moves to the second child, delicately positioned on the diagonal, illuminated by a sliver of light coming from behind the curtain.
Two influences, Japonisme, a style of painting influenced by Japanese aesthetics, and photography, converge in this painting. In the spirit of Japonisme—perhaps inspired by his friend Whistler—Chase has decentralized the picture, raised the horizon line, and defied the laws of gravity. The picture or mirror on the wall slides upward beyond the canvas edge, the empty chair floats unanchored, and the girl hovers before the light. The composition prefigures some of Chase's later landscapes with their high horizon lines and uptilted foregrounds.
The influence of photography can be seen in the unusual cropping in the lower left corner and the surprising expanse of space that dominates this picture. Abandoning a traditional compositional scheme in favor of one that suggests the accidental moment, Chase adopted for himself photography's intimacy and immediacy of expression. Chase owned photographs by Eadweard Muybridge, a pioneer in action photography, at the time this work was painted, affirming the artist's interest in the new form. As it might be in a photograph, Chase's cropped figure is sharply defined; the rest of the painting is slightly out of focus. At this time, too, many artists were concerned with issues of perception and the tensions between what is seen and what is unseen, for example, the light source, veiled by the curtain. The title itself—Hide and Seek—calls attention to this interchange, which is played out in the composition.