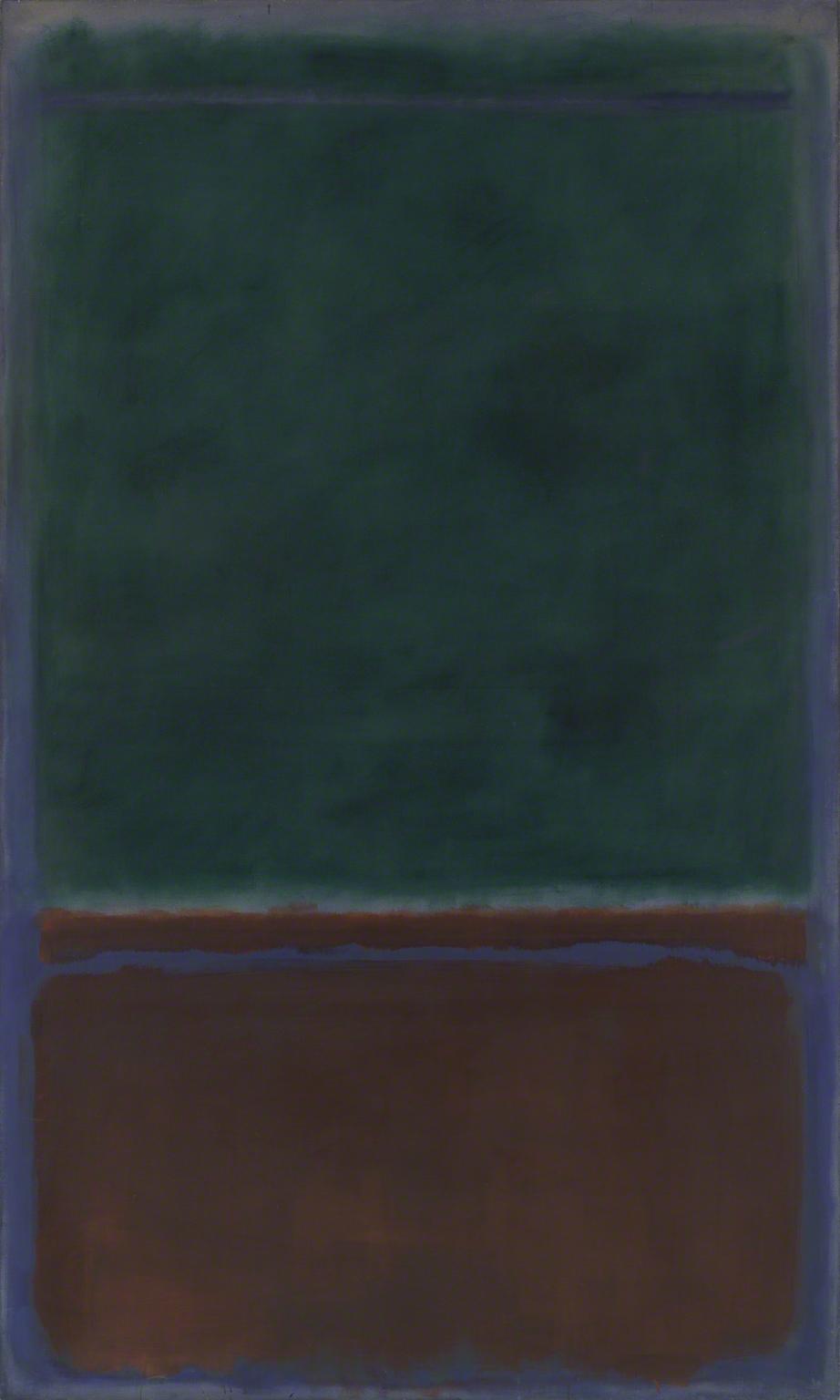 Green and Maroon was executed in the mid-1950s, when he painted scores of large canvases. Other works from this period all have a similar format, but vary widely in mood, depending upon their color and internal proportions. Rothko abhorred being viewed as a formalist abstract artist whose foremost intent was to arrange color fields on a flat canvas; he insisted that his art concerned the distillation of human experience, both tragic and ecstatic, to its purest form.
In Rothko's compositions, the rectangles and their surrounding space are given equal importance as presences. Beginning with no preconceived vision of a painting's final state, he intuitively adjusted his forms, always working with a frontal arrangement of horizontal or vertical rectangular forms. Rothko paid close attention to their height, width and edges, their distance from the edges of the canvas, and their interrelationships. All of his shapes have soft edges that fuse into their surrounding space. The dominance of these elements depends entirely on their color, which Rothko blended and layered to create varied luminosity and surface texture. He frequently applied paint with rags, rubbing wet colors together, so that few gestures were visible; at other times he painted with slightly built-up brushstrokes for textural variation. In many cases translucent underlayers of color are visible, evoking a quality of inner light. In
Green and Maroon
the colors are dimmed and rendered more dense by the underlying darker shades of blue, red and gray; as a result a somber stillness pervades the composition. Through countless color manipulations executed on a large scale—an approach comparable to that of a composer arranging musical notes—he created powerful, timeless absolutes of human sensation ranging from exultation to torment. Rothko's mature paintings, such as
Green and Maroon
, were usually large in scale, enhancing their dramatic effect. Painting large works allowed viewers to place themselves inside the composition, heightening their personal experience. Rothko preferred that his works hang separately from the work of other artists and in dim lighting, their large dimensions dominating the surrounding wall space—all in the endeavor to immerse the spectator in their power and enhance their mystical essence.