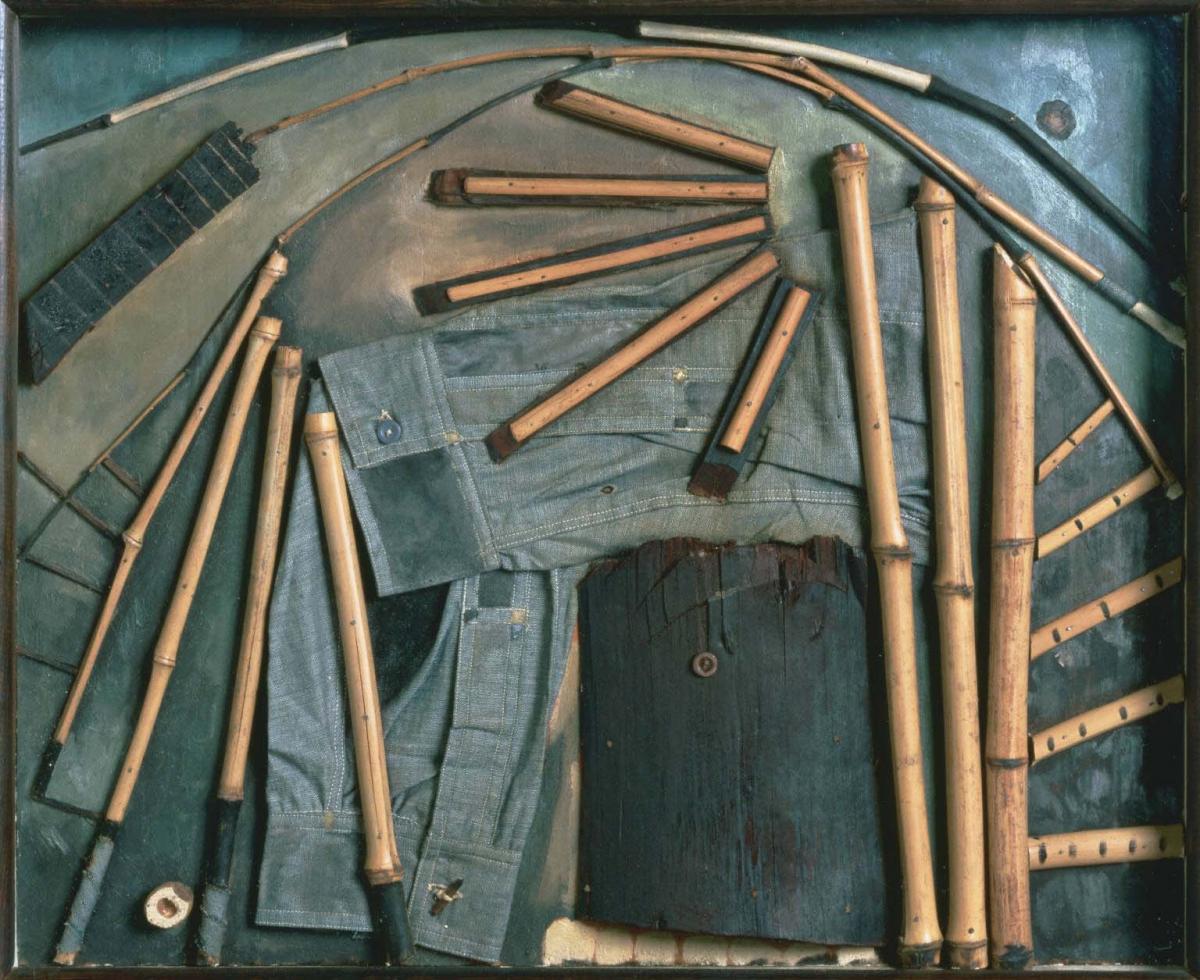 In 1937 museum founder Duncan Phillips acquired for this museum the Arthur Dove assemblage known today as Goin' Fishin'. When Phillips purchased it from photographer/gallerist Alfred Stieglitz, however, the work had a different title—Nigger Goes A-Fishin'.
Created in the summer of 1925, this assemblage is one of more than twenty-five collage works made of real objects, both manufactured and natural, that Dove created between 1924 and 1927 while living on a boat off Long Island near Huntington Harbor. Goin' Fishin' was the only work in this group given an offensive racist title. When first exhibited in 1926 Dove used the title Fishin' Nigger.
Phillips, who bought his first Dove works for the museum in 1926 from Stieglitz's Intimate Gallery, never forgot this assemblage of bamboo, wood, and denim shirt that was on view at that time. By 1930 Phillips was Dove's most important patron, providing monthly financial assistance to the artist; in 1935 Phillips set his sights on adding this unique object to the museum's growing collection of Dove's work. Although the early titles for this object evolved, they always retained their racist language until Dove authorized a change before his death in 1946. Since 1947, a decade after it entered The Phillips Collection, the work has been known and exhibited as Goin' Fishin'
.
The original titles used until 1947 were understood at the time, as they are today, as openly racist and offensive language. Dove told critic Elizabeth McCausland in 1937 that the work was inspired by an African American fisherman he saw on a pier in Huntington Harbor. Critics in the 1920s and 1930s, all of whom were white, recognized this subject matter. Their commentary, however, focused on Dove's formal arrangement of everyday objects, often commenting on the work's inherent "Americanness" as compared to the contemporary collage experiments of European artists like Picasso and Braque. Well into the 21st century scholars have continued to single out Goin' Fishin' for its inventiveness, while ignoring its racist origins.
Only recently have scholars pulled back the curtain on the suppressed racist history of Goin' Fishin'. Although the Phillips has been aware of these re-assessments, it has neglected to change its manner of looking at this work on its public platforms, including but not limited to gallery labels and website texts. In that regard, the Phillips has been complicit in the decades-long effort to ignore the racist origins of Goin' Fishin'. These institutional omissions have effectively erased the fraught nature of this work's history. The early titles are part of the historical documentation of this work and inform its original context.
The Phillips Collection is committed to shining a light on those parts of its history and collection that raise questions about race and difference, as these questions are not only part of the past but are still very much with us today. We understand that museums have a responsibility to use works like Goin' Fishin' to spark a dialogue and inspire critical thinking. We are at the beginning of our DEAI (Diversity, Equity, Accessibility, and Inclusion) journey, which includes, but is not limited to excavating the buried supremacist histories of objects in our collection. We are committed to reckoning with our past and preventing future harm. We do not claim to have the answers, but The Phillips Collection believes we must look with honesty and transparency at the full history of this work and others in our collection in order to begin seeing these works with new perspectives today.
(April 2021)