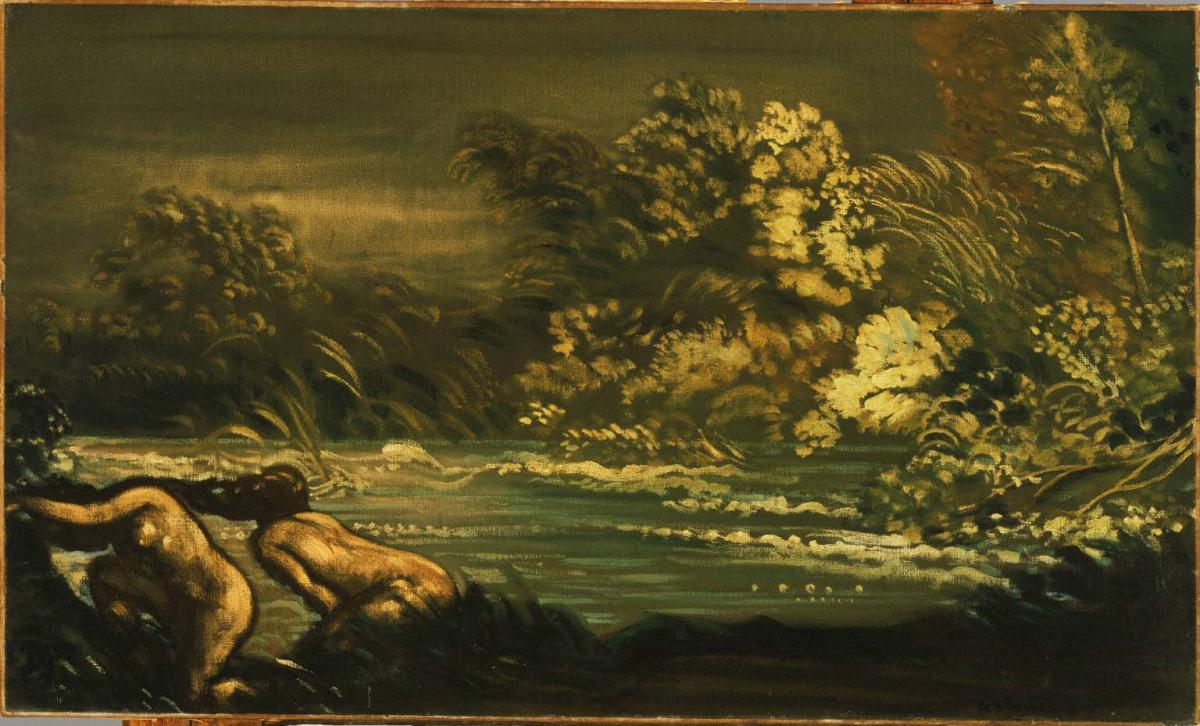 Arthur Davies painted The Flood in 1903 and exhibited the painting with The Eight at Macbeth Gallery in 1908. This exhibition was groundbreaking. It featured the work of Robert Henri, William Glackens, George Luks, and John Sloan—the leading artists of the growing urban realism movement—which focused on the gritty reality industrialization of cities. Although Davies' painting seems somewhat out of place alongside the work of the other artists, what brought The Eight together was not a shared choice of subject or aesthetic preference but their rebellion against the National Academy of Design and the conservative, restrictive tradition for which it stood. Critics at the time of The Eight exhibition acknowledged that Davies stood apart from these painters, calling him variously a poet, symbolist, and romantic.
A small but powerful fabrication from the artist's imagination, The Flood features two nude women, backs bent against the wind with hair flying, struggling to maintain a foothold against a roaring torrent of water. Defined with rapid brushstrokes, the swirling water and waving trees glow with luminescent color against the storm-darkened background. Davies was interested in movement and rhythm and experimented with various techniques to pictorially represent this. Paintings such as The Flood illustrate his subjective mysticism rather than his rebellious nature.
Although historians and critics have puzzled over the seeming disparity between Davies's role in introducing modern art at the Armory Show in 1913 and the romantic nature of his own work, he was actually ahead of his time in his assimilation of symbolist theory, and certainly in advance of the conservative circle of the National Academy of Design. The Flood, by evoking unbridled fear and primitive helplessness in the face of brutal nature, thus belonged in that historic exhibition of 1908 where painters in their individual ways confronted the realities, both sociological and psychological, of the new century.