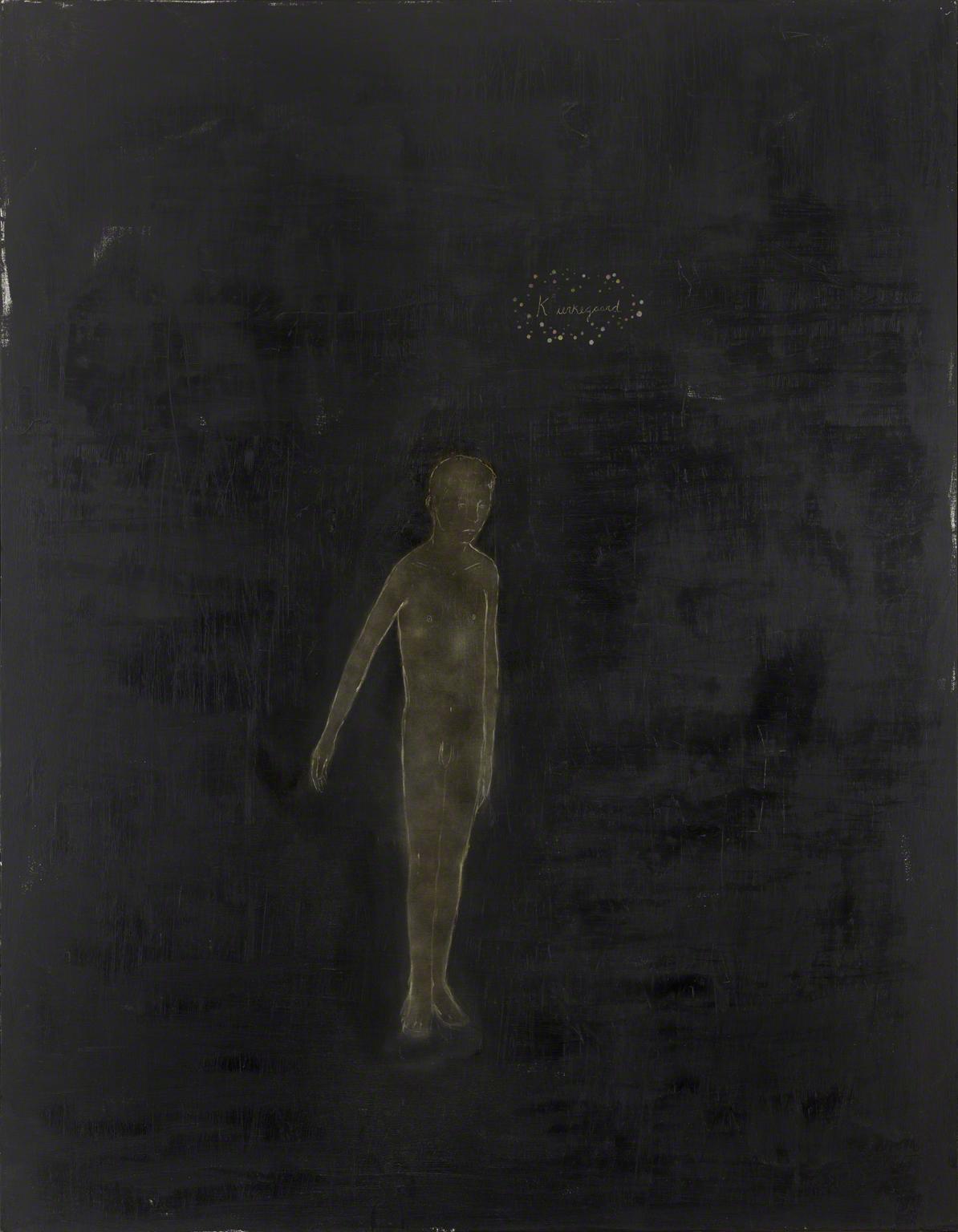 The Cuban-born American artist Enrique Martínez Celaya trained as a physicist as well as an artist. His paintings and sculptures examine the complexities and mysteries of individual experience, particularly in relation to nature and time, and explore the questions of the human condition through diverse knowledge systems as well as through literature, poetry, and art. With its emphasis on spirituality and transcendence, his work exemplifies aspects of the shift from modernism to postmodernity.
The nineteenth-century Danish philosopher Soren Kierkegaard has been a continual presence in Celaya's art. The biblical story of Abraham willing to sacrifice his son Isaac is central to Kierkegaard's philosophical work Fear and Trembling (1843), which examines the existential dimension of faith. Kierkegaard recognized in the story a paradox of faith, "that the single individual is higher than the universal, that [he] … determines his relation to the universal by his relation to the absolute, not his relation to the absolute by his relation to the universal."[1] According to Kierkegaard, the single individual must be unconditionally willing to sacrifice. This sacrifice is situated in the in-between of nothingness and anxiety, between the imaginary and the symbolic, the "disquieting supervision of responsibility."[2]
In The First Kierkegaard, that single individual is represented by a nude adolescent boy painted in a glowing Rembrandtesque sienna, standing within a background of dark tar (bitumen), with his right arm slightly raised. The boy, who appears in many of Celaya's paintings and sculptures, and his gesture of humility, are meant as a reminder of our ethical imperative. Neither assertive nor submissive, it is meant as a contemplative and quiet proposition of the highest spiritual order. "What Kierkegaard, [Fyodor] Dostoyevsky, [Friedrich] Nietzsche, and most other prophets have in common is a strong ethical outlook and a heightened sensitivity to attitudes and morals."[3]
In his work, Celaya employs autobiography, allusions, and references to religious thinkers and poets, including Nietzsche, Kierkegaard, Leo Tolstoy, and Paul Celan to construct a complex personal aesthetic steeped in literature and philosophy, and he has long made a case for artists to be prophets again: "The prophet, unlike the mystic, returns to the world."[4] He writes, "Joseph Beuys, Herman Melville, Marcel Broodthaers, Ayn Rand, and Albert Pinkham Ryder were prophets, not because they sat around theorizing but because they showed us something of the future and of ourselves…. The prophet becomes a prophet through his or her work."[5]
In 2017, The First Kierkegaard was installed alongside several paintings by Ryder, their caliginous mood and spirituality, as well as Ryder's preference for using bitumen instead of black paint, finding echoes in Celaya's painting.
1. Soren Kierkegaard, Fear and Trembling/Repetition, ed. and trans. H. V. Hong and E. H. Hong (Princeton, NJ: Princeton University Press, 1983), 70.
2. Kierkegaard, Fear and Trembling/Repetition, 156.
3. "The Prophet," in Enrique Martínez Celaya, Collected Writings and Interviews, 2010–2017 (Lincoln: University of Nebraska Press, 2010), 236.
4. Celaya, "The Prophet," 234.
5. Celaya, "The Prophet," 237.
Text by Klaus Ottmann, adapted from Seeing Differently: The Phillips Collects for a New Century (The Phillips Collection in association with Giles, 2021)