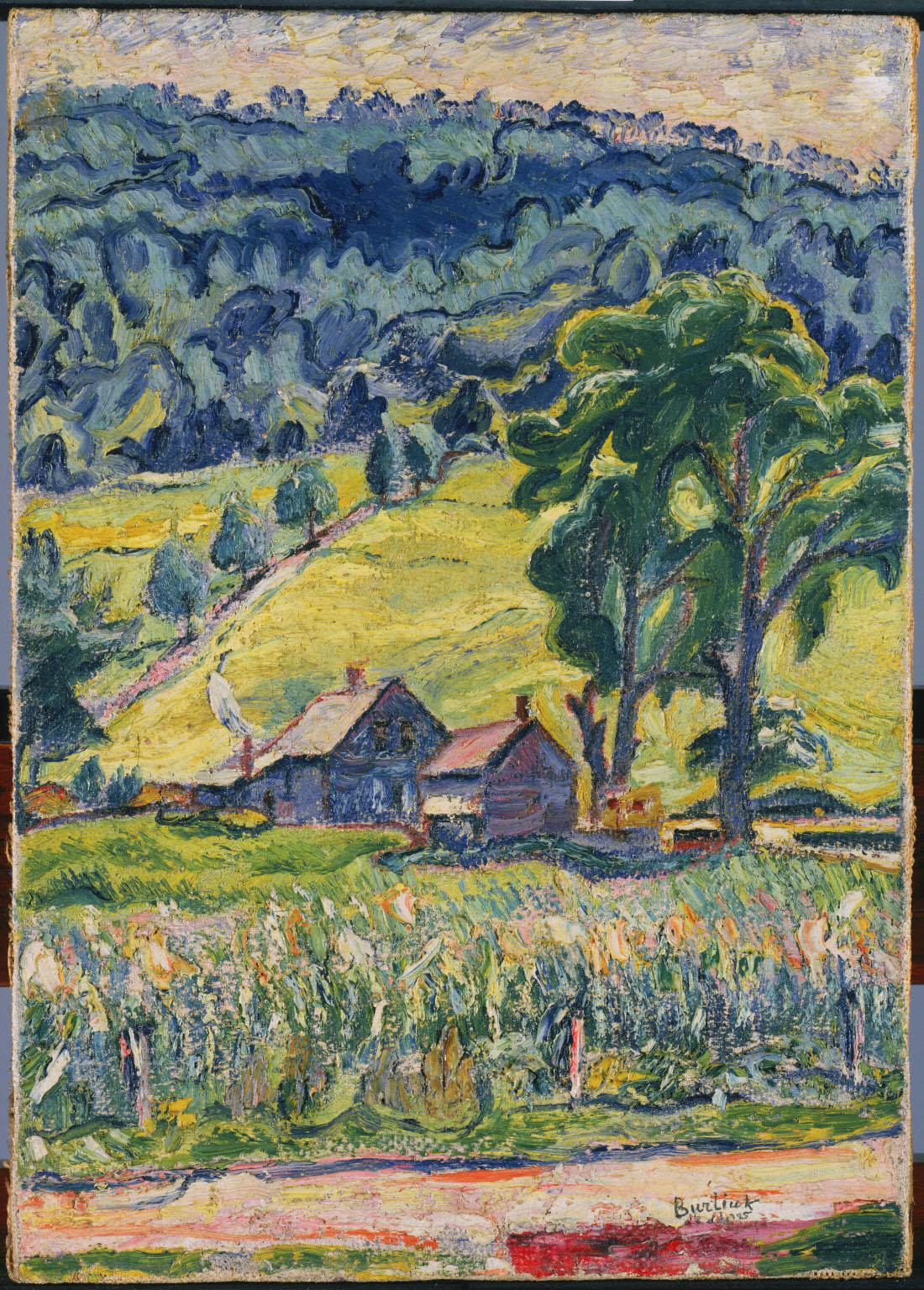 Having painted landscapes since childhood, David Burliuk learned to look beyond the obvious, to discover the true character of a place; however, he might alter specific details, including scale and the arrangement of natural forms, to enhance a painting's impact. His landscapes, often painted outdoors, capture fleeting effects of light and atmosphere and, more importantly, are infused with feeling.
Farm at Bear Mountain is vigorously expressionistic, using color to convey Burliuk's intense personal feelings about the landscape. Painted with rhythmic strokes, wiry lines, and strong colors, it is an ode to nature in late summer. Its predominantly saturated verdant palette is evocative of a lush summer with plenty of sun and rain. While warm highlights on the foliage and rooftops of farm buildings capture the effects of the sun, deeper greens and blues, found in the denser areas of trees, suggest the fresh, cool air of the shade. Burliuk further increases the dynamism of the painting by using a vertical format, thus denying the viewer a panoramic vista, creating a tension with the inherit nature of landscape painting.
When this painting was reproduced in Art and Understanding, a brief explanation of the work was written, possibly by Duncan Phillips, to capture its robust essence: "The influence of van Gogh is evident but the method and the blues and yellow-greens saturated in sunlight are used in a powerfully personal manner by this temperamental Russian. The entire landscape is steeped in an atmosphere of excitement." Burliuk's keen eye for dynamic and bold, though seemingly arbitrary, use of color creates a contagious vitality impossible to ignore.