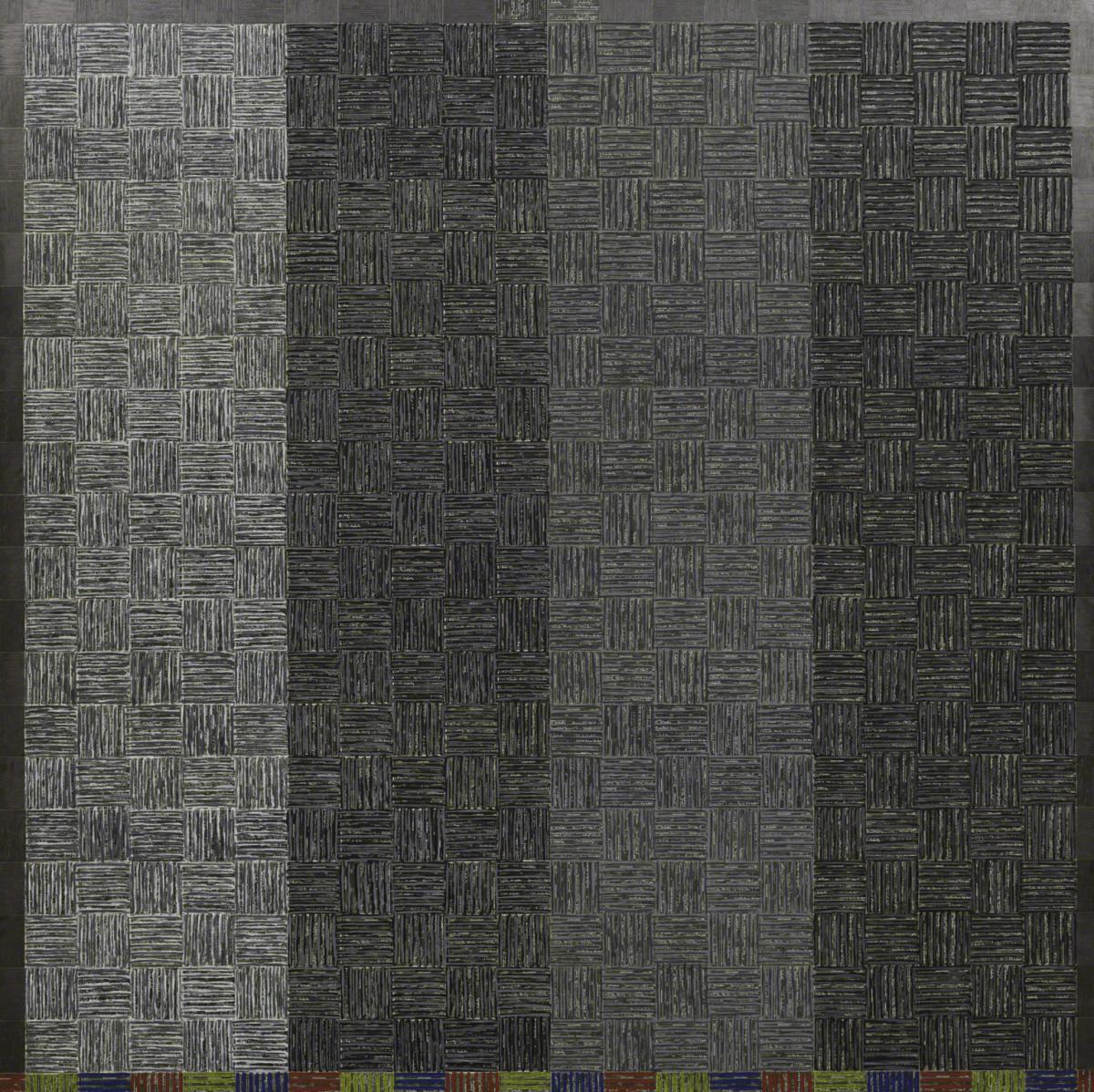 Fractals are seductive, dynamic systems defined by repetition. Gazing into them shifts your perception, inducing new neural frequencies. Landscapes reassemble, birthing hidden symmetries. The abstract starts to become familiar, like a mirror, showing new shapes and logic. New truths. This is the mystery and enigma that many of McArthur Binion's DNA grids invoke. They may appear minimalist, but they are laden with information rendered invisible. Encoded. Binion calls this the "under conscious" [1] of the work.
In DNA: Black Painting: 1, the terrain of the painting is made up of several equally sized parts and subparts, ad infinitum. The oil slick strokes create squares that grow into columns, which, in turn, create a large map on canvas that is a recapitulation of the original marks. The labor is immediately apparent, invoking awe at the time and process required. But the work doesn't stop there. The strokes are interwoven with shards of Binion's handwriting, lifted from an old address book, an intimate interlacing, which is only revealed to those who come close enough to see. Leaving traces of these intimate geographies and personal histories in one's work is an invitation. Labor begets labor. The more time you spend with the work, the likelier you are to unearth a map to Binion's memories. Of the intentional obfuscation, Binion says, "You are going to have to look really hard to see it under the paint. This is not about race, this is about history and images, about saying more with a lot less."[2]
In this way, the work itself is recursive, its own variant of fractal, discreet marks with the ability to become something else, something human. Binion often says he "made himself up,"[3] and in the work, he spreads himself out, too, by creating holy patterns of repetition that erect data about humans when they're complete, like DNA itself. It would be a mistake to see these works as merely an abstraction, though Binion allows for that entry-level reading, even as he complicates the concept, adding emotion by burying crucial and fraught personal information beneath all that sanguineness. The end result is being drawn in by the patterns, and awakened, sharply, by what lies beneath. Black artists are overburdened with responsibility—to explicate Black identity, and to tell the truth about America, to be its teachable moments. Binion refuses that responsibility. The work is both about that resistance, and a reminder that with the work, as with our country, if you want to look, it's all right there, in plain sight. The work reminds me of the poet Samiya Bashir, who also commandeers known laws of nature and mathematics, and reroutes them for her own use. In "Field Theories," she asks, "what is a thing of beauty / if not us? Repeat."[4]
1. https://frieze.com/article/mcarthur-binion.
2. https://noma.org/mcarthur-binions-dna-paintinghighlight-venice-biennale.
3. https://www.artspace.com/magazine/interviews_features/qa/in-a-predominately-white-art-worldmcarthur-binion-had-to-make-himself-up-tosucceed-54340.
4. https://poets.org/poem/field-theories.
Text by Jenna Wortham, adapted from Seeing Differently: The Phillips Collects for a New Century (The Phillips Collection in association with Giles, 2021)