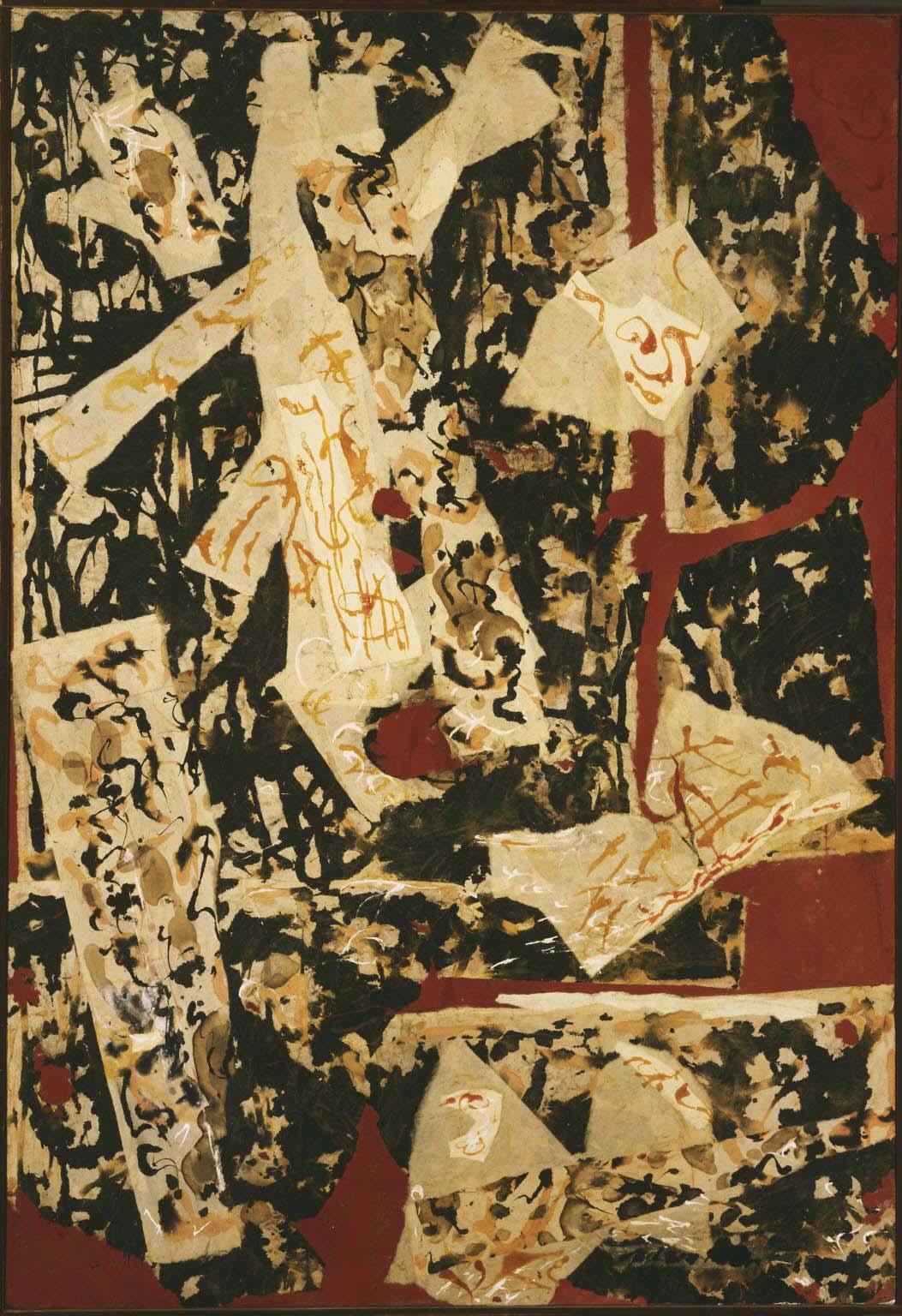 Although Jackson Pollock is best known for the drip paintings he created between 1947 and 1950, he also worked with the less gestural medium of collage, a means of expression that requires careful planning and hardly corresponds with his image as an "action painter." He first experimented with collage in 1943 at the suggestion of Peggy Guggenheim, who invited him to participate in the "Exhibition of Collage" at her Art of This Century Gallery. Collage and Oil of 1951 conveys an ambivalent balance between flatness and shallow space, figuration and abstraction.
During the early 1940s Pollock's style and his ideas were decisively influenced by the psychoanalytic theories of Carl Jung and Cubist paintings of Pablo Picasso. Confronted with their ideas about the unconscious and its expression in abstract art, Pollock gradually transformed his figurative language into a non-representational form. By the end of the decade, he had developed a technique that called for broad movement, drawing with paint in all-over, swooping streams and drips that transformed the canvas into an optical space of free-floating, rhythmic, interwoven lines.
Pollock's work in collage corresponded to that of his oil paintings. Collage and Oil illustrates his situation at the beginning of the 1950s, following his most creative and productive period, from 1947 to 1950. In 1951, he found himself torn between his artistic career and his severe personal problems. Collage and Oil, like his contemporaneous works in poured black paint, represents an attempt to maintain his great stylistic achievements while returning to figurative motifs.
The surface consists of a complex interwoven structure: upon three layers of oil paint—black, pink, and earth red—Pollock adhered torn, wrinkled fragments of Japanese paper that had been previously splattered with black paint or ink and light orange gouache. Finally, he dripped Indian-yellow paint and titanium-white gouache on the entire surface in tendrils reminiscent of Asian calligraphy. The torn paper fragments, however, which allude to figural shapes, are not evenly integrated into the painting's two-dimensional structure; they remain more or less separate elements occupying their own space. As a result, Collage and Oil appears more closely related to traditional collage patterns than to Pollock's other late collages that are less figurative.
Although none of the collage elements can be precisely interpreted, the long rectangular shapes in the upper left seem to suggest two struggling human figures. These forms move within a field of splintered fragments that appear to be falling away from the struggle. Further turmoil is suggested by the disquieting red background visible between the predominantly black collaged areas.
Duncan Phillips acquired Pollock's art in the wake of general acceptance, suggesting that he was mainly interested in the artist as a central phenomenon of America's postwar art development. While holding in high esteem the meditative, transcendent approach of Rothko, another abstract expressionist, Phillips probably did not respond to Pollock's disquieting expressiveness and intense psychic questioning. Yet he must have appreciated Pollock's calligraphic patterning and masterful manipulation of color in Collage and Oil.