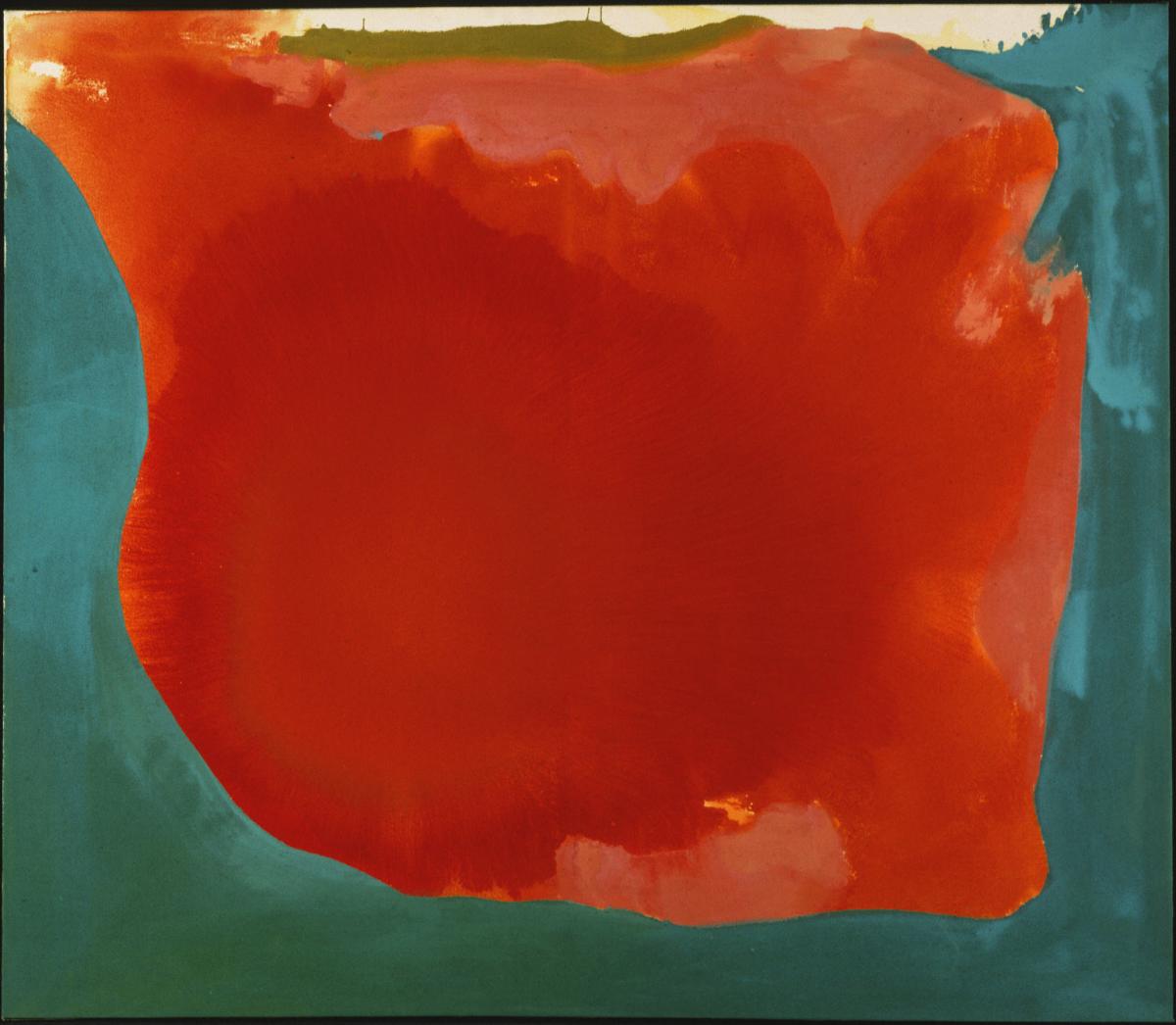 At fifteen, Helen Frankenthaler spent hour sat the Museum of Modern Art advised by artist Rufino Tamayo, her teacher at The Dalton School. After studying painting at Bennington College, Vermont, Frankenthaler met, in 1950, critic Clement Greenberg and several artists from the New York school, including David Smith, Jackson Pollock, and her future husband, Robert Motherwell. Exposure to Pollock's art prompted Frankenthaler to jettison the easel and place the canvas on the floor to paint. In 1952, elements from nature began to permeate Frankenthaler's abstractions, as her memories from summer travels to Nova Scotia were absorbed and translated onto the canvas. That year, she produced the stained painting Mountains and Sea by pouring thinned oil paint onto raw, unprimed canvas. The process generated transparent, layered color fields that appear simultaneously flat and three-dimensional. Her compositional approach informed the work of Morris Louis, Kenneth Noland and others associated with the Washington Color school.
In 1963, Frankenthaler experimented with thinned acrylic paints, which dry quickly and without the turpentine residue of thinned oils. For Frankenthaler, acrylics were easier to control, and she could use them to create crisp edges between densely painted and transparent color areas.[1] Her explorations led to large-scale work that presented the dramatic interplay of vibrant hues. During 1964–65, Frankenthaler flooded primed canvases with poured acrylics, moving paint with brushes, rollers, sponges, and squeegees. In Canyon, hot oranges and reds pool and flow, while cool bluish greens curve and enclose the central fiery form. The chromatic saturations of this compact cropped image intensify and surge beyond the picture plane. Like earlier works, Canyon may evoke a sense of place, perhaps a confluence of memories from 1965—a trip northeast of Bennington following the death of David Smith, and excursions to the Greek islands and Croatia. More likely, Canyon reflects Frankenthaler's return to earlier compositional concerns like a reengagement with canvases such as Tangerine (1964, private collection), larger in scale but similar in color scheme.
In 1966, Frankenthaler was one of four artists chosen to represent the United States in the Venice Biennale. The following year, Andre Emmerich Gallery loaned Canyon to the International Council of the Museum of Modern Art's 1967 "Art in Embassies" exhibition in Montreal at the residence of General Richard Hawkins Jr., Consul General of the United States. In the brochure for the exhibition, Frankenthaler described her process: "A really good picture looks as if it's all happened at once…. I think very often it takes ten of those over-labored efforts to produce one really beautiful wrist motion that is synchronized with your head and heart, and you have it, and therefore it looks as if it were born in a minute."[2] Canyon was the first painting by the artist acquired by the Phillips; other important examples supplement the collection, including an early oil, a complex woodcut, and a later print.
1. E. C. Goossen, Helen Frankenthaler (New York: International Council of the Museum of Modern Art, 1969), 13–14.
2. Quoted by Michelle Harvey, Museum of Modern Art, New York, in a letter to Jessie Fertig, The Phillips Collection, Curatorial Department, January 27, 2003, object file, Phillips Collection Archives, Washington, DC.
Text by Renée Maurer, adapted from Seeing Differently: The Phillips Collects for a New Century (The Phillips Collection in association with Giles, 2021)