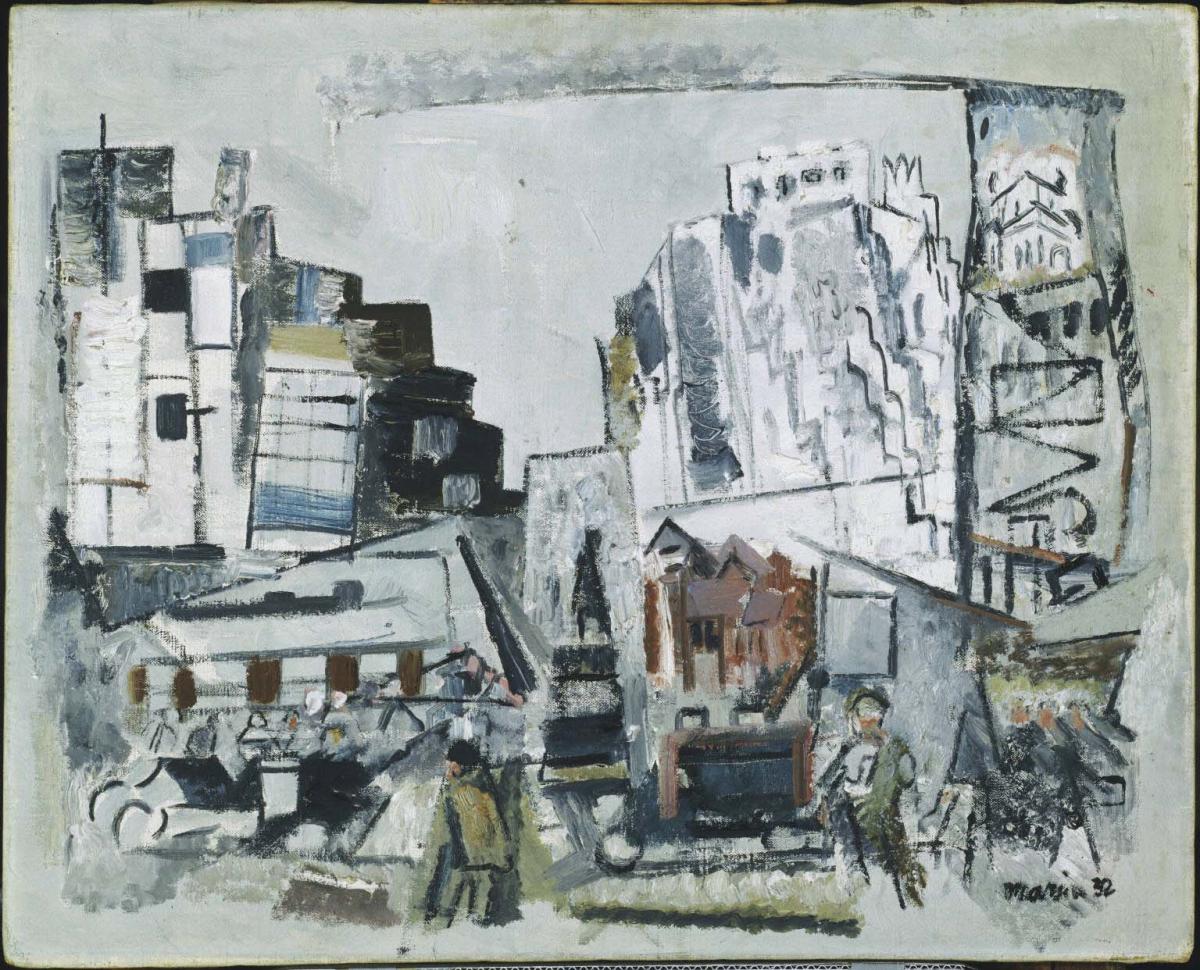 When John Marin returned from five years abroad in 1911, New York City had been dramatically transformed; the city's energy and new, soaring skyscrapers captivated the artist. Though he lived outside Manhattan, Marin frequently came into New York, seeing the city each time with a fresh eye that heightened the intensity of his response to the urban scene. His early depictions of city subjects focused on newly built skyscrapers. Marin's images of the city, like Bryant Square, personify the hurly-burly pace of urban life in twentieth-century America. In this picture, angular planes thrust inward from the sides of the composition, evoking a sense that the towering structures are jostling against each other, vying for prominence.
Through his handling of line, Marin creates sequences of movement that lead the eye across the image and into the canyon of skyscrapers, expressing the excitement and momentum of the streets of New York. Marin himself described them as "buildings rearing up from the sidewalk." The surface of Bryant Square shows flat, thinly painted sections, almost transparent, as well as elements that are thickly painted, mainly in the lower sections of the composition. His lines equally varied; long black strokes define the major blocks within the image, while short zigzags and swift angular strokes suggest motion and the city's quick place.
The idea that music was related to the rapid tempo of modern life was familiar to Marin, who wrote, "While these powers are at work, pushing, pulling, sideways, downwards, upwards, I can hear the sound of their strife and there is great music being played." The syncopated beat of jazz best symbolized for Marin New York's pulsating energy and became a metaphor for modern American culture.