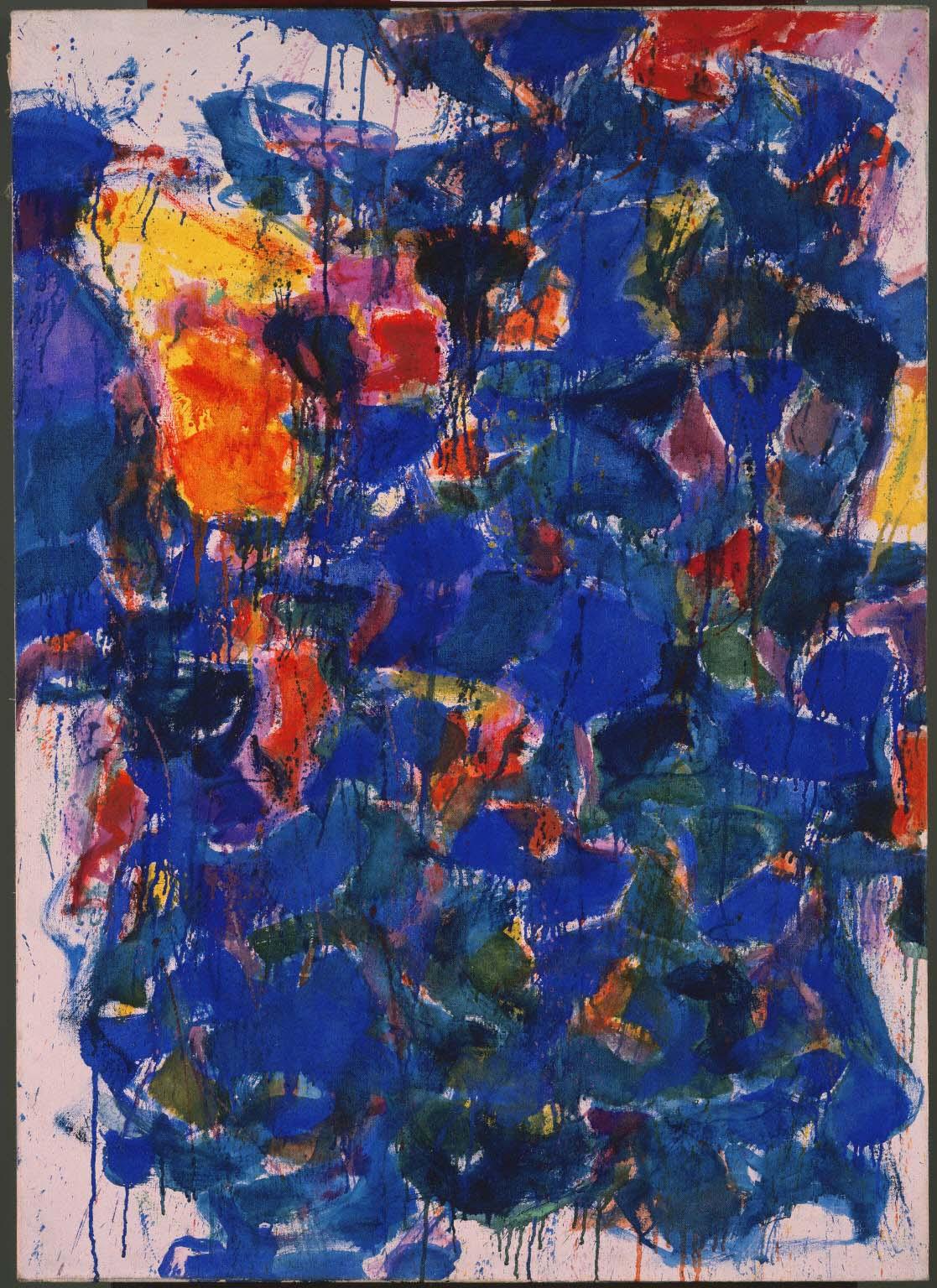 In January 1958, Sam Francis returned to Paris after a yearlong world tour that took him by way of Mexico, to Japan, Hong Kong, Thailand, and India. Inspired by his trip, he embarked on a prolific and successful year. Blue, painted at this time, reflects a synthesis of his innate love for color and light and a new understanding of space and calligraphic line derived from his Asian experiences.
Francis is loosely associated with the group of second-generation abstract expressionists, who during the 1950s reacted against the first generation's strident emotion in favor of creating mood through use of dominant color. His love of color stemmed from his time in Paris, where he immersed himself in the art of Monet, Bonnard, and Matisse; however, rather than blending figuration and color as they did, Francis created large, luminous abstractions that were intended to envelop the viewer, as exemplified in Blue, a work that also uses varying hues of blue to create a soft, lyrical effect.
The all-encompassing qualities of Blue recall Monet's late work, the Water lilies, which Francis saw in Paris. Francis transformed Monet's strands of clinging plant life into abstract drips and spatters that flowed downward, suggesting gravity's pull. However, he differed from the impressionists by making metaphorical rather than literal associations.
Francis's most radical use of space emerged after his return to Paris in 1958, when color dominated his canvases, leaving the white to serve as an element in unifying the composition. In Blue, the cluster of delicate cell-like shapes, resembling a cloud, seems to hover in the upper, right-hand section of the work, leaving behind a limitless sea of white. Glimpses of green, orange, mauve, red, and yellow surface through the openings in the floating cobalt, ultramarine, and Prussian blue shapes.
In the late 1950s, Francis gained wide-acclaim in both Paris and America; his work became a revelation to artists and the public, and he quickly took his place among the country's leading abstract expressionists. Duncan Phillips mounted a show of Francis's works in 1958, the artist's first major exhibition in Washington, D.C., from which Blue was purchased. Phillips often hung Blue with paintings by the American artists Bradley Walker Tomlin, Mark Rothko, Adolph Gottlieb, and Morris Louis.