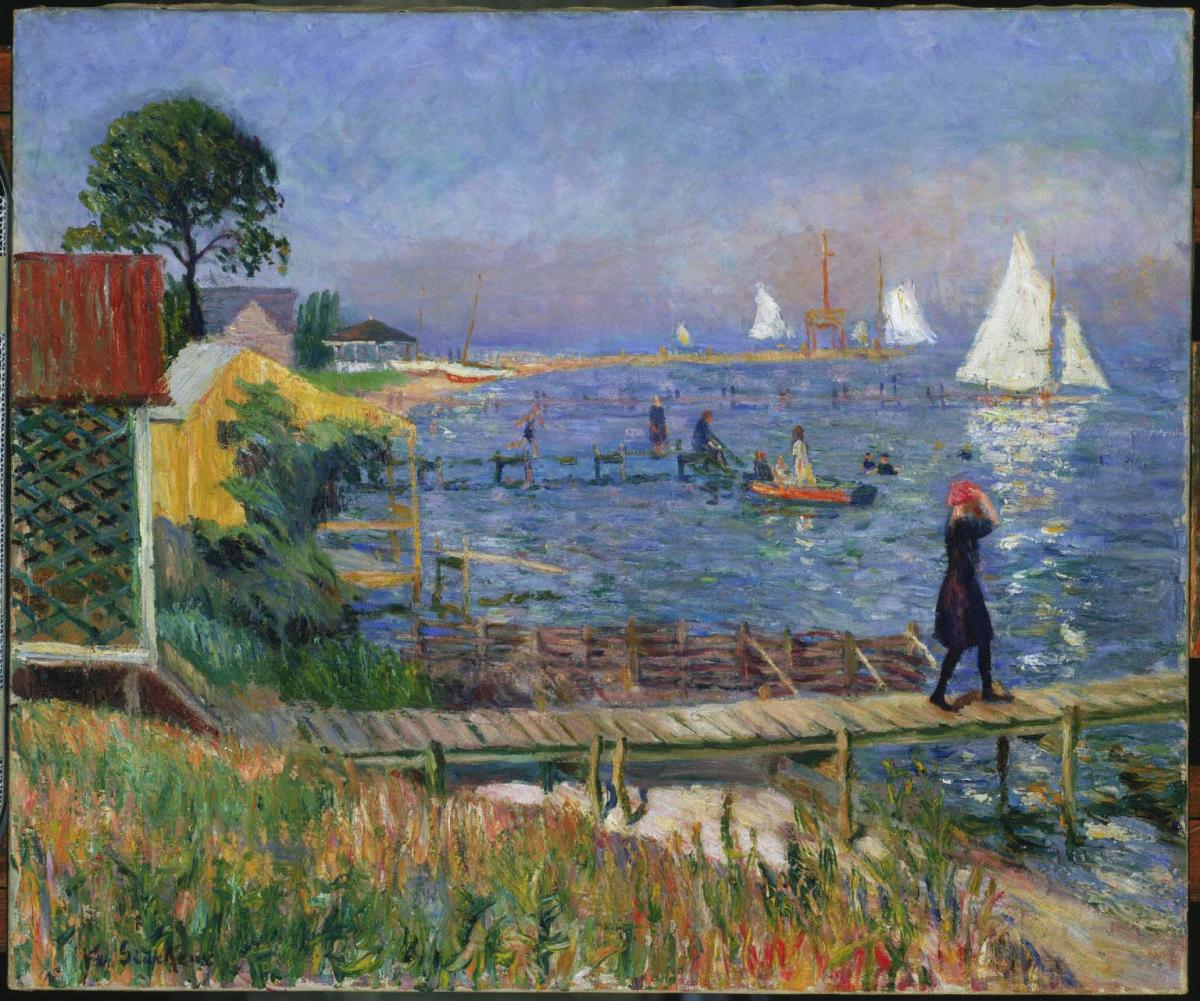 After nearly a decade and a half of painting in the muted colors and gestural brushstrokes of his teacher Robert Henri, Glackens surprised the New York art world in 1908 with a vivid and highly colored painting that he showed in the winter exhibition of the National Academy of Design. He was encouraged to experiment with bright color harmonies by his friends Maurice Prendergast and Ernest Lawson, who were also members of The Eight, and Alfred Maurer, who had embraced Fauvism in 1907. In 1912, Glackens traveled to Paris, where he saw an explosion of color in the works of the Impressionists, Post-Impressionists, and Fauves, works that further reinforced his new direction.
Glackens spent the summers between 1911 and 1916 at Bellport, Long Island, a quiet, unspoiled community that attracted artists, writers, and musicians. There he painted a series of beach scenes— vibrant canvases that depart from his somber and dreary work of earlier years.
During the Bellport summers Glackens painted numerous works at Great South Bay that showed his family and friends enjoying summer pleasures—the sun and the beach, sailing and swimming. In Bathers at Bellport, horizontal docks and sand bars bound the sparkling blue water; bright yellow ocher and burnt sienna bathhouses contrast with crisp white sails. A visual memory of the summer of 1912, this work reveals Glackens's growing interest in impressionism and his understanding of the important influence that French art had upon American art. The clarity of colors derived from nature, so characteristic in French impressionism, clearly struck a chord with Glackens.
Bathers at Bellport is reminiscent of Claude Monet's paintings of the 1860s in the broad and direct treatment of color, brevity of touch, and dashes of jewel-like pigment that denote foliage and the sun's shimmering reflection on the water. However, Glackens distinguished himself from the impressionists by not allowing light to erode the contour of an object. An accomplished draughtsman, Glackens relied on line to establish structure and to retain solid form in the composition.