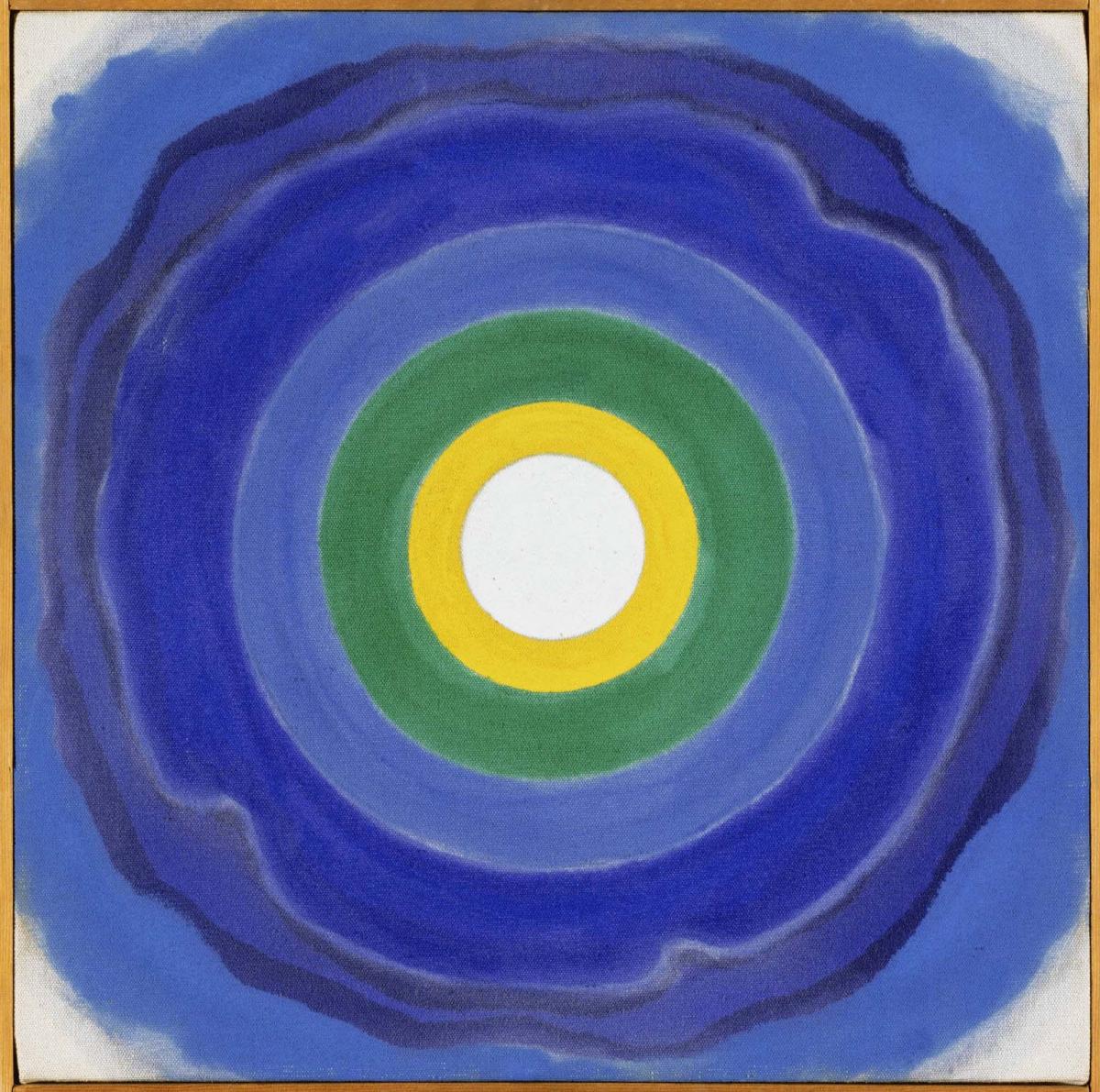 April belongs to Noland's highly original and startlingly direct Concentric Circle series (1958–1963) which feature symmetrical, circular bands of varying colors from which energy radiates either in a rotary fashion or, as in this work, outward from the center. Noland found that the geometry of concentric circles gave him freedom to concentrate on the volatility of color. In employing centralized circular images, the artist eliminated not only structural considerations but also traditional narrative readings of a painting from left to right. Instead, the viewer focuses on the center and can take in the entire form at once.
April bridges Noland's early Concentric Circle series and his late examples, which were often termed "targets." In 1958, Noland began to explore this motif, concentrating on vibrant, energetic color, using an array of highly-keyed hues. In his early works, including April, he painted the inner rings with sharply defined contours, while he gave the outer bands softer edges, leaving the final ring of color as a softly stained halo gently flowing outward. In April, the final band in cerulean blue fills most of the composition to the edges; only the corners of the canvas are left bare. Noland began a work such as April by sketching the circles in graphite and then soaking pure colors into an unprimed canvas with a brush.
The development of Noland's Concentric Circles series was inspired by a myriad of sources, one of the earliest being the art and theories of Josef Albers, who was Noland's teacher at Black Mountain College in North Carolina. Noland derived the idea of working in a series with a single motif to explore the expressive potential of color from Albers's own series, Homage to the Square. Noland also acknowledges the influence of Abstract Expressionism, primarily the art of Jackson Pollock and Helen Frankenthaler. He not only adopted many of their innovative techniques, such as pouring pigment on the unprimed canvas, but also embraced their willingness to experiment and to approach painting in new ways.
The organic qualities of the early American modernists, especially their sun imagery, may also have inspired Noland's circles. His radiating bands of color recall the life-giving force of the sun in Arthur Dove's Me and the Moon, 1937 or Georgia O'Keeffe's Red Hills, Lake George, 1927. He knew both works from his visits to The Phillips Collection. Noland found that the circular form satisfied new formalist concerns, while it also alluded to organic, even metaphysical, interpretations. As a dynamic shape, the circle could imply motion and life, as well as eternity and organic growth. In focusing on the circle, Noland was aware of how the circular form could effectively draw in the viewer and the repeated circular bands could inspire the imagination.