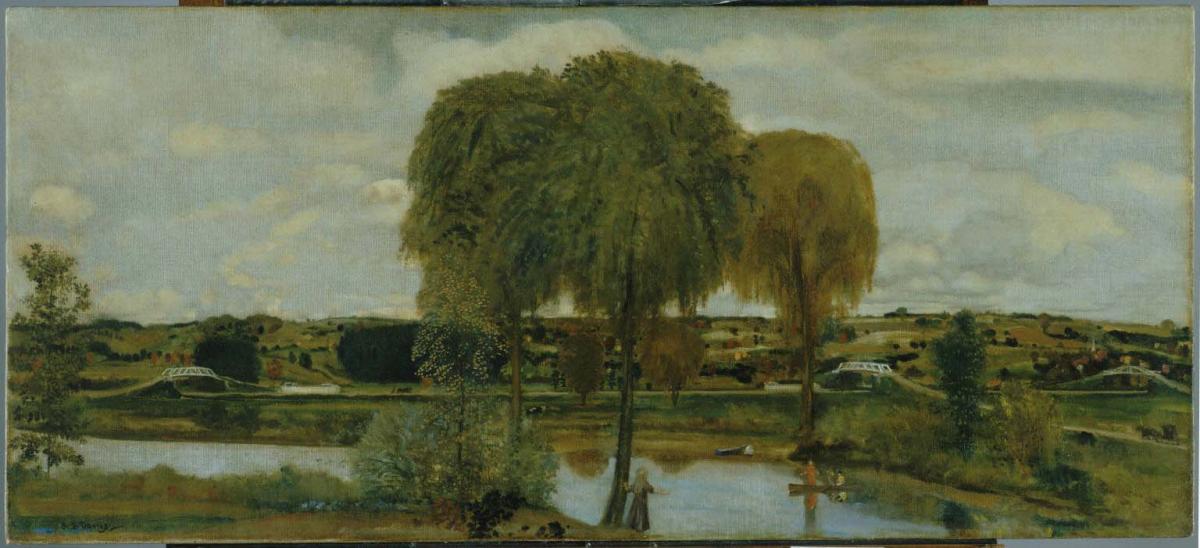 Arthur Davies's birthplace of Utica, New York, is located on the eastern leg of the Erie Canal, which has remained a busy and important commercial inland waterway and a great source of pride for the communities it had served since its opening in 1825. This depiction of the canal and surrounding Mohawk Valley countryside has a celebratory air, suggesting a sunny, idyllic location blessed with a harmonious relationship between the land and man's industrious use of it.
By 1886, Davies had left Utica and was living with his family in Chicago. En route from Chicago to New York, he stopped in Cazenovia, a small resort town near Utica, to visit his teacher, Dwight Williams, and to paint. As Duncan Phillips noted in 1931, "Although Davies went forth from the special peace of the Mohawk hills and lakes and trees to his world travels … I know how tenderly he thought of the home of his boyhood." Along the Erie Canal is vivid proof of that tender regard. Finished four years after his visit with Williams, it expresses the sense of poignant and nostalgic pleasure that comes from viewing the familiar territory of one's youth through mature eyes.
Along the Erie Canal is a major early work, and was completed before Davies began adding nudes and mythological references to his landscapes. Because of its bright summer light and atmospheric effects, it has at times been labeled as impressionistic; however, unlike others of his generation, Davies had no interest in French impressionist theory. Instead, his treatment of this semi-pastoral location is more indebted to the Hudson River landscape tradition, tempered by the influence of the French Barbizon school. The overall mood of the painting conveys more than picturesque anecdote. As Phillips observed, the painting goes beyond "the ordinary sort of naturalism" because "we cannot disengage the realism of it from the romance." Filtered through childhood memories, the countryside along the Erie Canal becomes a harmonious realm of peace, prosperity, and benign nature.